For many adults, the Vespa tour at the weekend is a break from everyday life and great fun. Children also want to ride the Vespa, which is why there are of course battery-powered models for them. These small electric scooters are incredibly fun to ride, while of course safety is not neglected.
The Vespa for children: driving fun and skill training
The Vespa for children creates a sensation among big and small. It awakens dreams of winding rides on the coast of Portofino, keeps children busy for hours and at the same time perfectly trains their dexterity. Of course, the original design of the children's Vespas, which look exactly like the adult models, is also responsible for the high fun factor. They are practically identical to the adult models, but much smaller and adapted to children's capabilities in terms of performance and speed. From around the fourth to fifth birthday, the youngest are already able to drive slowly on their little Vespa. Parents should not miss their shining eyes! Practice can first be in the home garden, then a protected play street is the appropriate terrain. There are the Vespa for children in different designs, whereby girls and boys have quite different preferences. In addition, there are different sizes for different age groups.
The children vespa GTS electric 12 V
This model costs 215, – €, has the dimensions 1,020 x 500 x 750 mm (L x W x H), is available in five colors and can be driven at one speed level. Faster than 2 km/h this Vespa for children does not get! It has a forward-stop-reverse switch and was designed in the detailed style of the Vespa GTS Super or optionally the Vespa PX MY, which are exactly the same as the Italian classic Vesper Piaggio. Little scooter fans will experience the ultimate driving fun. The children's Vespa is ideal for the child's first experience with two-wheelers. It is powered by a 12-volt battery and has working lights and sounds on board. Thanks to the attached training wheels, there are no concerns about safety: the little riders cannot fall over. An automatic brake system ensures that the scooter stops as soon as the child stops accelerating. This little Vespa is a perfect gift for the child! Delivered disassembled in its original box, assembly takes no more than 20 minutes. A few simple steps are enough, the necessary screws are included. The scope of delivery includes the frame, steering column and mudguards, handlebars, mirror, a seat, training wheels, the 12 V battery, a charger with EU plug (220 to 240 volts), an AUX cable with a length of 20 cm, illustrated assembly instructions and the assembly material. Here are the main features:
Age recommendation: 3+ years
max. load: up to 30 kg
power supply: 12 V
seat: 1
Safety features: support wheels and automatic brakes
Equipment: plastic wheels with center rubber ring, sound and lights, USB/AUX port, micro SD card slot (MP3 compatible)
Speed: up to 2 km/h
Forward-stop-reverse switch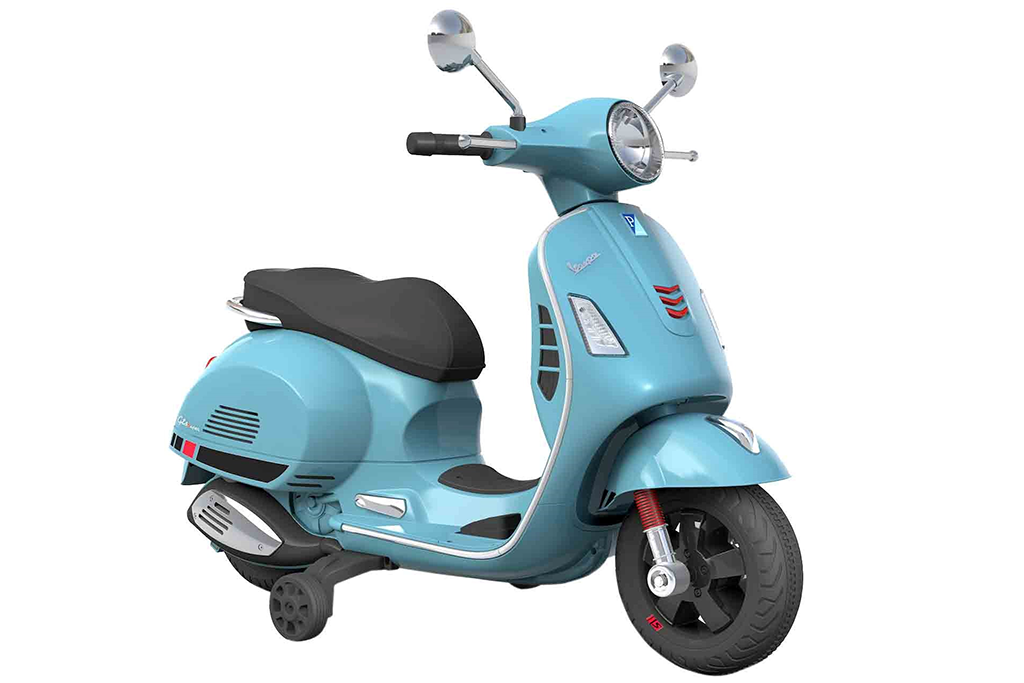 The children's scooters are also available without battery for overseas customers.
Fun with the Vespa Granturismo from Peg Perego
From the manufacturer Peg Perego comes the Granturismo children's vespa for €319, which is also powered by a 12-volt battery. It is somewhat more powerful and is therefore also suitable for slightly older children. Here are the technical specifications:
Age recommendation: 3 + years
max. load: up to 30 kg
power supply: 12 V
seat: 1
drive wheels: 1
incline: up to 10
speed: up to 4,2 Km/h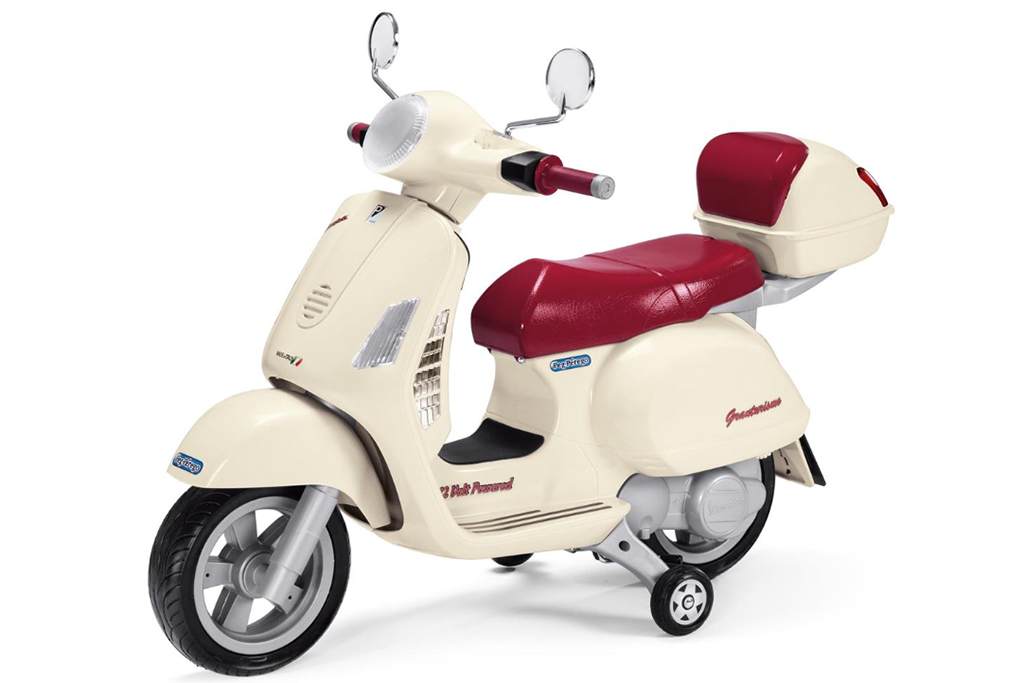 This Vespa is a lot of fun for older children, because it copes with slopes up to 10% on smooth surfaces. Here, too, the manufacturer has placed great emphasis on safety. Parents will find that their children love to ride the Vespa so much that they hardly want to play anything else.