With the dearest Vespa you always want to have a firm grip on, especially while driving it should be a good hold. For optimal grip and a safe riding experience, SIP has a new range of handy grips for many scooter models ready!
Ergonomic. Stylish. Good – The right grip for your Vespa
for handlebar tubes Ø 22-25mm
very soft high quality rubber
different colors
The topic of grips is highly underestimated on scooters, after all they form the direct contact between rider and vehicle. The design of SIP SERIES PORDOI grips goes away from the impractical aluminum rings and the mainstream look, to everyday and comfortable grips with yet handsome appearance.
ergonomically optimized shape for comfortable operation
waffle pattern picks up design element of 50s-60s-70s handles
high quality and precise manufacturing
Due to the oval shape, the grips hug the palms nicely and still feel good even after long tours. Just the shaping and the associated increase in comfort make the PORDOI handles the ideal companion whether on tours or in the city.
The right material for the right grip
The use of a high-quality rubber compound, prevents the rubber from staining and does not let the grips be too hard. After all, the material must be held on for longer periods with some adventures and should not interfere with the driving experience. When using bar end weights, the end of the handle can be cleanly cut off at the groove with a sharp knife.
For assembly, it is recommended to spray the inside of the grips with a little brake cleaner beforehand, as this evaporates and then quickly push it onto the handlebars.
Overall, the SIP PORDOI series shines with fabulous attachments that can all be combined with each other. Sporty levers and different mirrors should not be forgotten here.
Which brown should it be?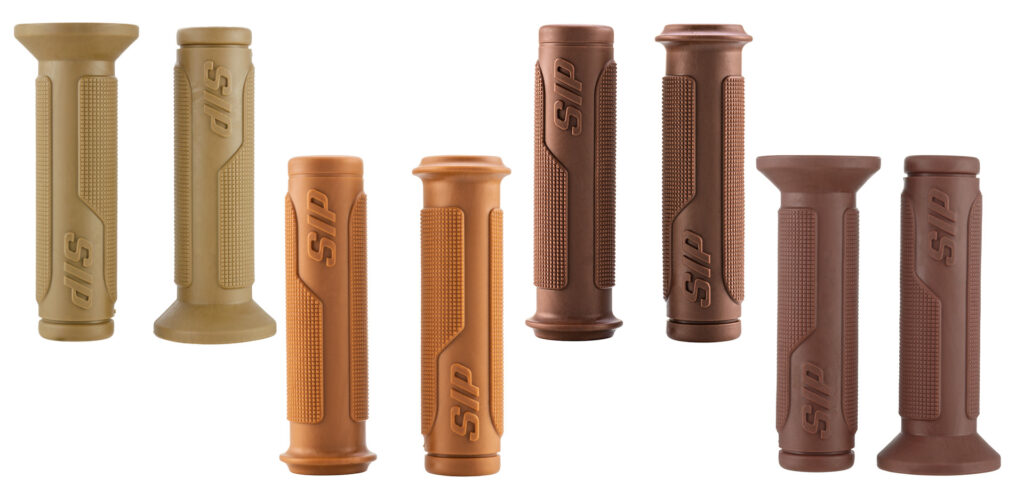 For some, brown is simply brown. But this is not the case. If you have a look at the whole selection of SIP SERIES PORDOI grips, you will notice a color scheme.
In the case of the brown shades, subjective designations of light brown, brown, brown vintage, etc. were used to assign the brown shades to the RAL Classic color fan. RAL color shades are international and can be found online or best compared with a RAL color fan. But even with that, there are different opinions on which brown shade corresponds best to which RAL color shade.
In the end, it is always difficult to create the exact same color tone across products, but with the simple designations should come some clarity in the colorful color fan. Therefore, always pay attention to the exact designation of the color tone, because even illustrations can be deceptive due to different lighting conditions.