Driver's licenses in Germany are not exactly obvious at first glance. The answer is indeed not quite simple, not to say complicated. Like everything in Germany that has to be regulated by law, there are various classes for driver's licenses, which in turn are subdivided into subclasses. There are seven classes in total, identified by letters from A to T. Each class stands for a specific vehicle. Each class stands for a certain type of vehicle, again divided into subclasses.
An overview
Driving license class AM, for scooters and mopeds
This is the so-called scooter driving license. With this license you are allowed to drive
Mopeds, Vespa ⇨ Fuffi (50 cm³), moped, mokick, e-bike, three-wheeled motorcycles, four-wheeled light motor vehicles.
Engine capacity max. 50 cm³
Maximum speed 45 km/h
electric motor max. 4 kW (6 hp)
Minimum age 15 years (inside Germany, for other countries 16 years)
Driving licence class A1, for light motorcycles
two- and three-wheeled light motorcycles
engine capacity up to max. 125 cm³
engine power up to 11 kW (14,9 PS)
Vespa Sprint (successor to the Vespa S), Primavera 125, GTS 125, a total of 9 ⇨ 125cc models, best and at the same time most expensive Vespa 946 Bunny (approx. 12,000 € expensive and limited noble model)
Top speed 110 km/h
minimum age 16 years
besides practice rides also 12 special rides on highway, country roads and night rides
driving license class A2, for motorcycles up to 35 kW (47,6 PS)
If you already have a class A1 motorcycle license in your pocket, you only need to pass a practical test on a higher-class machine.
for newcomers, special rules apply:
theoretical lessons of 16 double hours of 90 minutes each
of which 12 double hours are basic material
4 double hours of special material about the motorcycle
the number of practice hours is determined by the driving instructor
the above mentioned 12 special rides are mandatory
Special feature:
With this driving license A2, vehicles of the classes AM and A1 may also be driven.
Driving license class A, for large machines
Minimum age 24 years
Exception: in possession of the driving license class A2 for at least 2 years, in this case an age of 20 years is sufficient
without engine capacity and power limits
included are the driving license classes A1, A2, AM
For the right equipment for driving any motorcycle is always worth a look in the clothing department of SIP Scootershop. Especially also for any tuning parts for Vespas can find so some.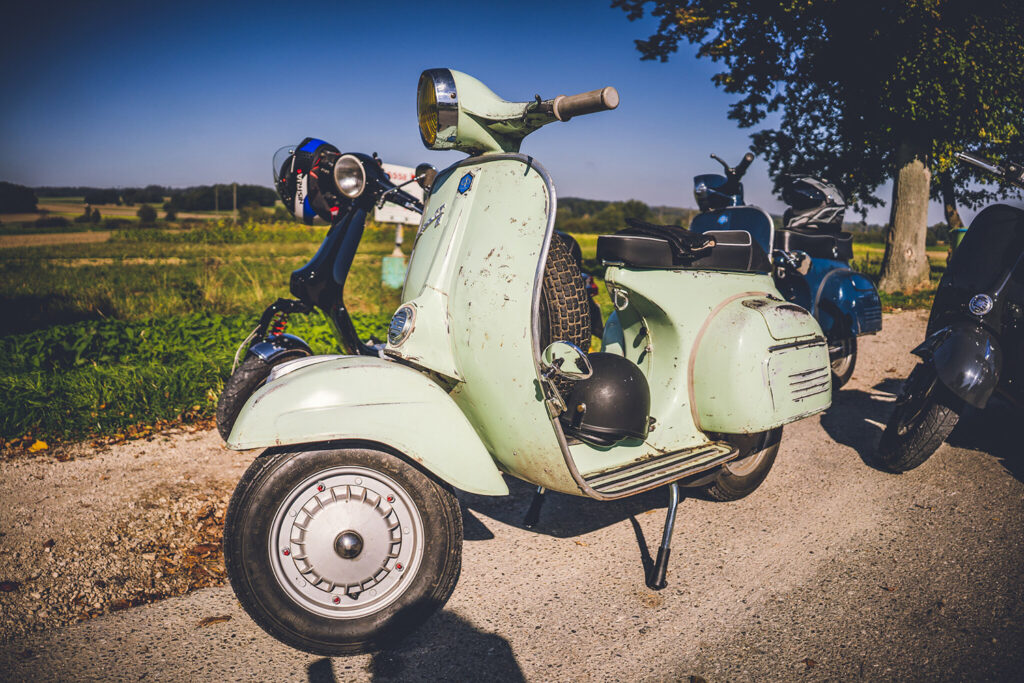 Which motorcycles may I drive with a passenger car license?
All mopeds up to 50 cm³ may be driven with a class B passenger car license.
If you obtained your car license between April 1, 1980 and January 18, 2013, you may also drive trikes (three-wheeled motor vehicles) up to a maximum of 15 kW (20.4 hp)
Who is still in possession of an old class 3 driver's license?
This driving license was issued until 1999.
Mopeds up to 50 cm³
maximum speed 45 km/h
max. engine power 4 kW (5 PS)
If this class 3 driver's license was obtained before April 1, 1980, the class A1 driver's license is automatically included.
For class A2 only a practical driving test is required.
Driving license extension B196
Good to know:
Since January 2020, anyone who holds a Class B license can take a special course at the driving school to obtain the B196 extension. Authorized to drive a motorcycle up to 125 cm³.
But here again there are conditions:
Minimum age 25 years
Class B driving license for at least 5 years
Advantages
Shorter and cheaper than the acquisition of the class A 1
neither theoretical nor practical examination required
Disadvantages
The extension of the class B196 is not a real motorcycle driving license and cannot be credited if A 2 or A are to be acquired at a later date
the extension B196 is not recognized abroad as a driving license
Conclusion
In general, you can get confused with all the classes. If in doubt, it is always worth asking a driving school directly. With this overview, however, we hope to have brought some light into the darkness.
Have a good trip! And please never drive without a valid driver's license!
FAQ
With which driver's license can I drive a 45km/h scooter?
If you have a passenger car driver's license, you may drive a moped (up to 45 km/h) without an additional driver's license. The same applies to holders of a motorcycle license. If you are too young to get these tickets, you may only drive with a class AM license.
How much does a scooter license cost?
The cost varies by class. As a rule, a scooter license class AM costs between 500 € and 800 €. Classes A2, A1 and A each amount to 1000 € – 2000€ and are therefore more expensive.