Well planned is half won: Route planning
What could be nicer than taking a Vespa on a tour to destinations worth seeing in fantastic weather? Probably not many things. You can easily bring the Italian lifestyle home to you. But if the tour with the Vespa is not or not sufficiently planned, it can quickly become a nightmare.
The scooter and its equipment
The most important object of a tour with the scooter is logically the scooter itself. Especially with the old models, a technical check is therefore particularly important before the start of a larger tour. But even with the new models there are some things that need to be considered. For example, the air pressure in the tires is very important. If there is too little or too much pressure in the tires, it is often dangerous. You should also make sure that the oil level is correct. If you don't know how to help yourself, it's advisable to have a service performed by a professional beforehand.
Especially with older Vespas it is often helpful to carry some small tools with you. In the box provided for this purpose under the seat, things can be packed so that you can do small repairs yourself on the road. The "basic equipment" consists of a socket wrench set, a second spark plug, a spare hose and the appropriate cable clutch.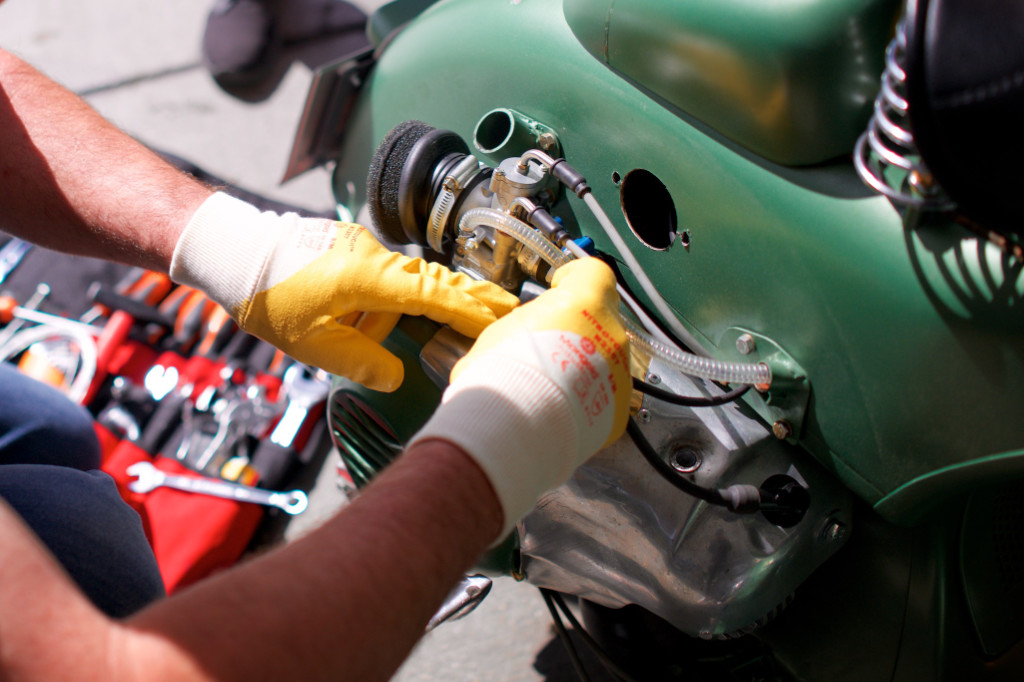 The route
As soon as you can be sure that everything is in order with the Vespa, you can start with the actual planning of the tour. For this purpose, you can use either classic road maps or modern navigation devices.
As a longtime and experienced Vespa rider, I can only recommend to avoid sections on highways when choosing the route. Instead, we recommend less frequented and already more charming country roads, on which you are much safer on the road.
Furthermore, it is important to be aware of what kind of tour you want to undertake and how much driving distance or driving time you can handle on a daily basis. Therefore, you should already plan the rough route during the preparation. Possible rest stops and places to take a break can also be planned well in advance and offer clues during the tour.
Even if it may be a nice idea to spend a few hours every day on the Vespa – in reality it is rather exhausting and energy-sapping.
When planning, you should therefore not set yourself any tours that are too long. Personal fitness also plays a not unimportant role in the selection of the appropriate route. While experienced touring bikers can sometimes ride for eight hours on the scooter, beginners often have no more fun after four hours.
Logically, the weather also plays a very important role. It is usually easier to ride longer tours in bright sunshine than in constant rain, for example.
Solo or in a group?
An important question that is often underestimated. Are you traveling alone and can you go at your own pace or do you have to orient yourself to your co-drivers. If you are riding in a group, the interests and needs are different. While one person pushes every turn to the limit, the other just wants to relax. It is especially important when riding in groups that the slowest person sets the pace. That way, no one is left behind and everyone enjoys the tour.
Expert tip: If one person fills up, then everyone else fills up too. In practice, there's nothing more annoying than having to stop at every gas station to refuel.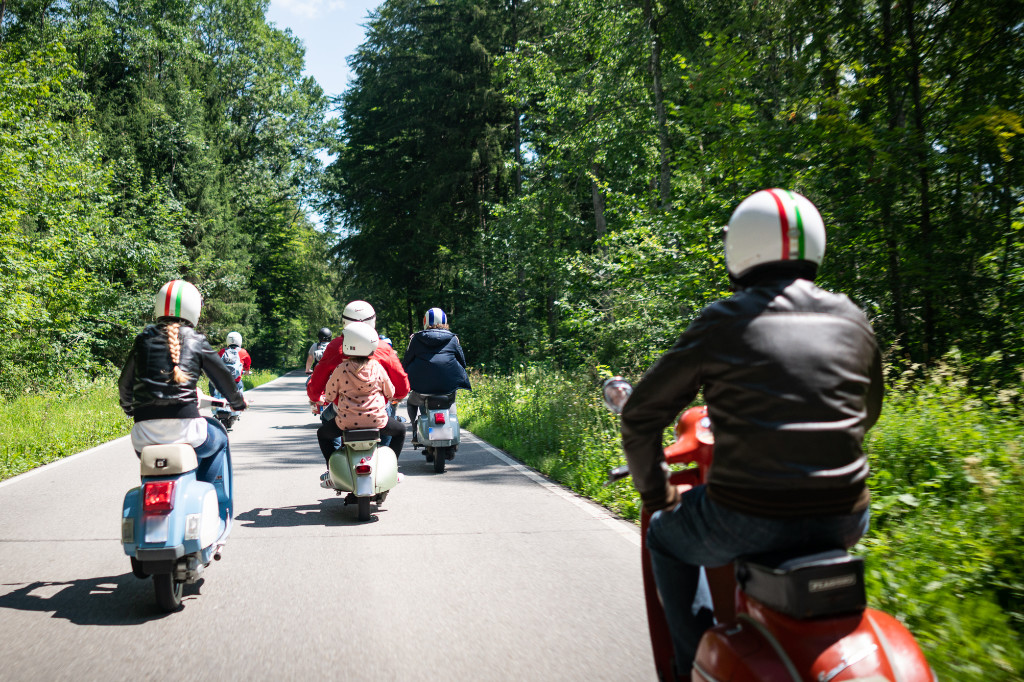 Booking accommodation
For tours with overnight stays, it is always recommended to book accommodation in advance. On particularly popular routes in the high season is often nothing more free and so is after an exhausting day of touring often still an exhausting search for accommodation. If you have already roughly agreed on the route in the group, this should be done in advance. Certain accommodations for motorcyclists are also advantageous. There are sometimes certain locked places or garages prepared for the machines. Then the Vespa is safe and dry until the next day. Many of the operators are also motorcyclists themselves and can possibly give one or the other tip for the next route.
The tips and hints listed above are of course not conclusive. If you follow these tips, the nightmare mentioned at the beginning should certainly not become reality. Instead, you can look forward to a great Vespa tour.