Riding a Vespa is not just a simple means of transportation, but also a strong passion and lifestyle. Whether you use your Vespa for your daily commute or enjoy it as a recreational vehicle, safety should always come first. A crucial factor for safety on two wheels is choosing the right protective clothing.
Why is it so important?
Protection from injury:
When you fall on a scooter like the Vespa, contact with the road is inevitable. The right protective clothing significantly minimizes the risk of injury. Protective clothing, such as motorcycle jackets, pants and boots, as well as gloves, are specifically designed to protect your skin from abrasions and cuts. A quality helmet provides protection for your head and can be a lifesaver. For the right choice in headgear, there is a separate article: "Vespa Helmet Guide". Further below, we go into more detail about special protections for scooter riding.
Weather conditions:
Whether the sun is shining, it's raining, or it's cold, the right rain gear will keep you comfortable in all weather conditions. Waterproof and breathable materials will keep you dry and from getting chilled. When temperatures are high, air-permeable fabrics protect you from overheating.
Legal requirements:
In many countries, certain protective gear, such as helmets, are required. Wearing the right gear can not only save a life, but also avoid traffic tickets and legal problems.
Special protective clothing for scooter riding
Kidney belt is an indispensable accessory for every scooter rider, next to gloves. It belongs to the basic equipment and is an absolute must if you don't want to make kidney and bladder problems your constant companion at some point. Our SIP Uni kidney belts in elegant black are not only extremely space-saving rollable, but also keep you pleasantly warm. In addition, they convince with an unbeatable price-performance ratio.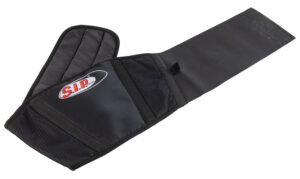 The REVIT SEESOFT™ CE level 2 back protector insert is capable of absorbing multiple consecutive impacts without sacrificing comfort, ventilation or freedom of movement.
This high-impact insert is made of a blend of nitrile polymers and polynorbene rubber that form a memory foam. This memory foam meets the highest CE certification standards (EN1621-2:2014 – Level 2) and resists more than one force impact.
In the event of a severe impact, the different layers of memory foam deform, distributing the impact energy over a larger area. This minimizes the impact force on the back and spine. Thanks to this multi-layer principle, REVIT has developed a flexible back protector insert that works excellently in all conditions.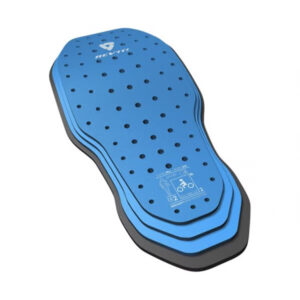 The hip protector can be easily integrated into any REVIT jeans.
Thanks to constant advances in outer layer materials, we are able to design motorcycle clothing that is not only fashionable, but also extremely abrasion resistant. Nevertheless, until now, integrated protectors in various types of motorcycle clothing posed certain limitations. This is where the SEESMART™ concept comes in. It was developed specifically for urban motorcyclists and offers maximum flexibility.
SEESMART™ meets all impact tests according to EN1621-1:2012 CE level, even under hot conditions (T+). This development brings us one step closer to our goal of offering the best motorcycle clothing in every field.
Conclusion
Choosing the right protective clothing is crucial when riding a Vespa. It offers protection from injuries, weather conditions and increases visibility on the road. It also helps you meet legal requirements and strengthen your riding safety. Invest in quality protective gear to make your Vespa rides not only stylish, but safe. Your life and health are worth it.