In 2009, vehicle engineer Sandy Symeonides founded the specialist workshop "Scooter Meccanica" in Alexandria, an industrial suburb of Sydney, Australia. Here, a team of experts tunes and restores old and new Vespa and Lambretta scooters. Tuning enthusiasts from all parts of the country appreciate the work of the competent specialists at "Scooter Meccanica", whose slogan "exceptional service, individual dreams and fast machines" Sandy and his team put into practice with a lot of heart and soul.
Unrivalled mix of workshop and gallery
Sandy Symeoides is a visionary whose soft spot for Italian scooters always made the vehicle engineer dream of a special workshop where he could not only live out his tuning passion, but which would also be a kind of gallery where he could present the full splendour of scooters to his customers. The visions did not stop there, and so a cool mixture of workshop and gallery was created in the small town of Alexandria, which is unparalleled in Australia.
The interior of the workshop makes the hearts of Vespa fans beat faster. They can marvel at beautifully restored models in all corners of the workshop, from the SS 180 series and a TV 200 to the GS 150 and 160. A special highlight is a cathedral consisting of Vespas and Lambrettas hanging from the old industrial ceiling next to chandeliers, motor antiques and plants. The old leather sofa, an inheritance from Sandy's first boss Big Joe, offers the best view of the artwork as well as the old models. Sandy has thus fulfilled his dream of a mix of workshop and gallery so successfully that his business has mutated into the leading specialist scooter workshop Down Under.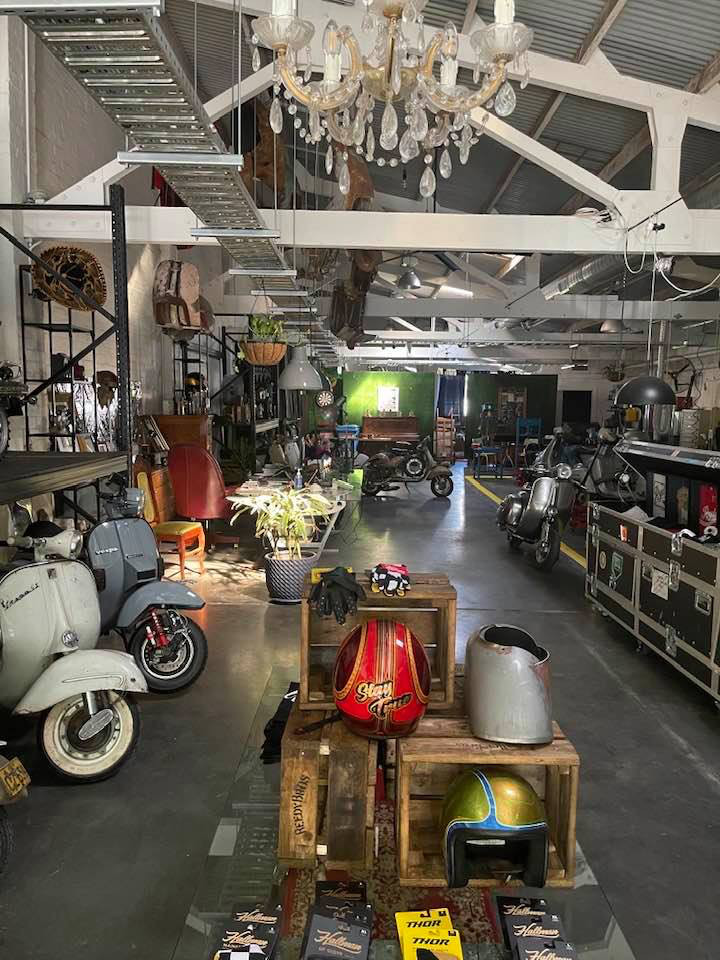 The beginnings are in London
Sandy's fascination with scooters began in the late 1990s, when he was still living in East London and held his first SIP Scootershop catalogue in his hands. From then on, this became his scooter bible and Sandy became a loyal customer of the shop. He was one of the first customers to buy the SIP fibreglass racing seat, which had just come onto the market at the time. He worked as a smallframe tuner for Trevor Howe of "Project 13 Racing", where he quickly realised that there was more to him. Back in his Australian homeland, he came up with the brilliant idea of founding a company that later gained national notoriety thanks to a competent team of experts for its excellent custom work and restorations of old Lambretta and Vespa models. This year, Scooter Meccanica's tasks include the restoration of several SS90s. Sandy is particularly proud of the Nitros 1974 Sprint Vespa model and the imminent completion of a right-hand drive 400 series Vespa scooter, of which only 80 were built.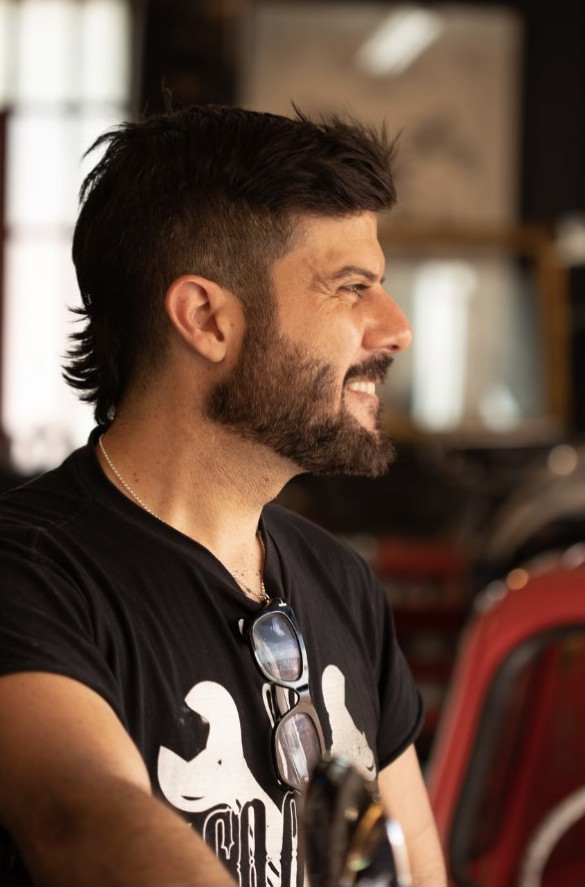 Enthusiast with a heart
Sandy Symeonides is no stranger to Australia's Vespa scene. For 20 years, he has dedicated himself heart and soul to his passion for scooters and, through his meticulous work, has helped to ensure that the scooter scene Down Under, of which he is a member, has grown steadily. His personal highlight every year is participating in the "Classic Scooter Mille", where he tours through different regions of the continent with his 1963 Vespa GS 160 together with his chief restorer Mark and his partner Fleur. In his spare time, Sandy is involved in social projects such as the first "White Ribbon Ride Out", which aims to fight violence against women and children. He was also an ambassador for the "Distinguished Gentleman's Ride", which supports prostate cancer research, for example. Furthermore, he runs a soup kitchen for the homeless and trains asylum seekers to give them the opportunity of further employment.