In recent years, there have already been several collaborations between Vespa and big names in the world of fashion and pop culture. In addition to Giorgio Armani, Christian Dior (read the article here) and Sean Wotherspoon, pop star Justin Bieber has now joined the ranks and been allowed to design his own Vespa model.
Justin Bieber's love for the Vespa
According to his own statement, Bieber has felt very connected to the Vespa for years.
"I just remember seeing a Vespa and thinking, 'I want to ride one of those'."
London or Paris – according to Bieber's statements, that was probably the place where he rode a Vespa for the first time. The experience must have completely enthralled him. He raved about the wind blowing through his hair, the great time he had and the complete freedom he feels when riding a Vespa. One or two Vespa fans can probably relate to that very well.
"To be able to cooperate with a brand that I have always loved is the best prerequisite for a good partnership."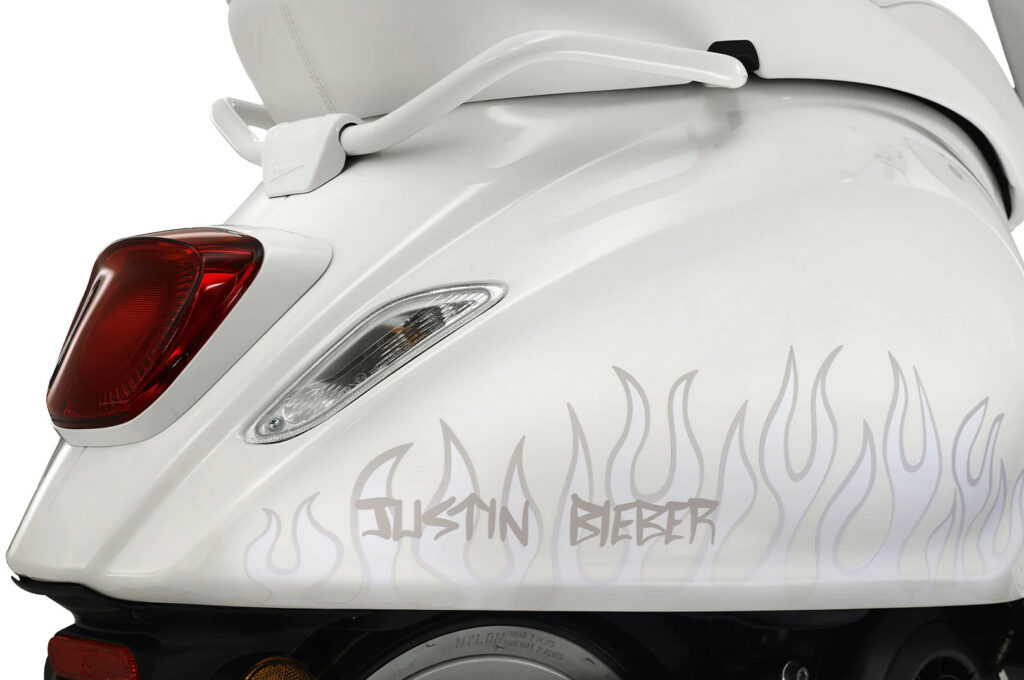 Clean, monochrome and yet with that little edge
The Vespa Sprint designed by Bieber is completely white. This includes all elements: from the saddle to the handles and the spokes of the rims. The rear part of the bodywork is decorated with flames and the pop star's logo, also in white. Despite the monochrome design, the flames are intended to give the model that certain bit of uniqueness.
The typical features of the Vespa Sprint can also be found on this special model: the i-get engine, the sporty youthful design of the bodywork and the classic rectangular headlights.
Vespa offers the model as a 50cc as well as a 125cc version.
Pre-ordering now possible
Since 20 April, Vespa and Justin Bieber fans can pre-order the two models. The 50cc version costs 4599€ and the 125cc version is available for 6099€.
The matching accessories are also available: a limited edition collection consisting of a helmet, gloves and a topcase bag, which of course also come in the white-monochrome design including flame details.