The mechatronics engineers at Butchers Garage have once again completed a great project. Butchers Garage in St. Petersburg has already made headlines in 2018. In the ESC project, they became active for SIP Scootershop. Now, under the leadership of mastermind Alex Mazan, they have completely redesigned a Vespa GTV. Above all, the former NASCAR champion Richard Petty stood by as inspiration.
Who is Richard Petty?
The project is a true tribute to "The King" aka Richard Petty. The former American stock car driver raced in the former NASCAR racing series in the years from 1958 to 1992. Mainly Richard Petty drove in the race car No. 43 Plymouth/Pontiac from Petty Enterprises. The legend has numerous records to his credit and in total he won an incredible 200 races. He was the first ever to win the Cup Series championship seven times.
The custom Vespa
Butchers Garage stuck with Petty's team colors for the NASCAR Vespa GTV custom project. The company "Octopus Art Aerografia" provided the beautiful killer paint. For this, of course, the use of stickers was dispensed with. Everything was painted in elaborate craftsmanship. The result can be seen. The painters have done a great job.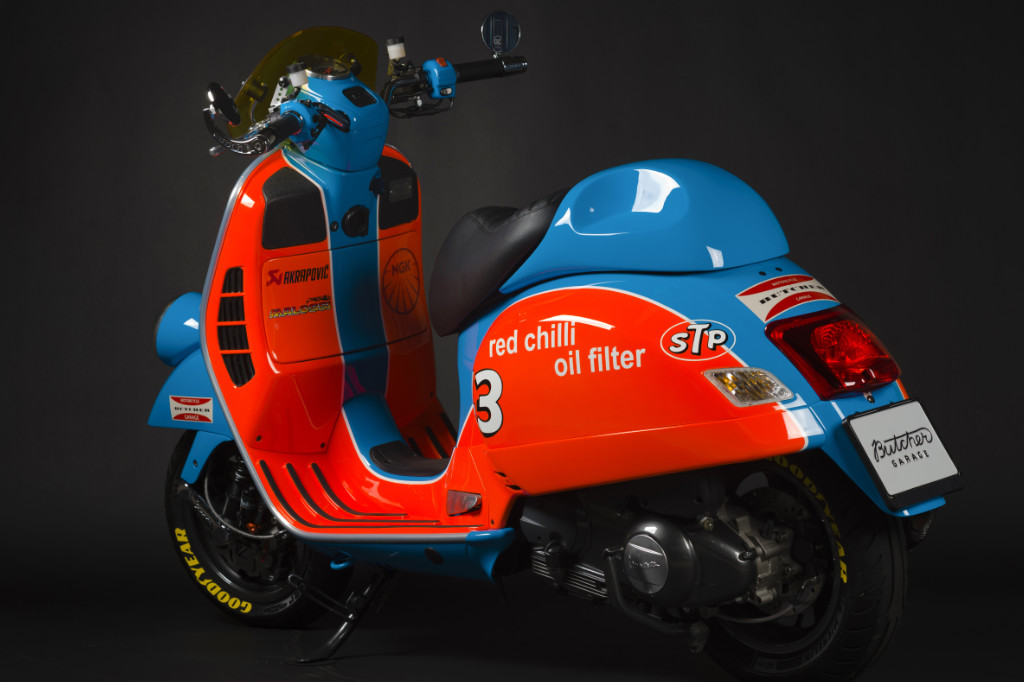 The Vespa has been a true collector's item since the 1950s. It has always been individualized by the owners with pleasure. From various manufacturers such as Vigano, Ulma, Appel or Ardor were offered at that time long attachments and accessories. These included among others:
chrome accessories
fuel gauges
passenger seats
child seats
heated grips
trims
anto-theft devices
badges
speedometers
crash bars
mirrors
The NASCAR Vespa in the present day
Proud owner of the NASCAR Vespa GTV Custom project is Andrey. The famous dance teacher from St. Petersburg is a self-confessed fan of the Vespa brand. In his large collection he already has several unique specimens.