Chugging along the Alpine highways toward Italy on a Vespa sounds tempting. If you don't mind having to look into the exhaust of other two-wheelers on an incline, you can of course also ride a small, i.e. less powerful Vespa. This is then in any case comfortable, because it does not go faster. So the surroundings can be admired and admired extensively.
The idea, however, that now and then strange scooter drivers rush past us and we have to breathe away their exhaust fumes from the air, that is not necessarily uplifting (even if environmentally friendly).
When we climb …, with just under 24 hp up the passes
Enough power should already have the machine, such as the new GTS 300 hpe (since October 2022 on the market, the hpe means translated "high performance engine").
This machine has already been presented in the following article: "Vespa GTS Super". That's why we know that the 300 model puts 23.8 hp on the road and has received a number of technical updates (the look was rather secondary).
The scooter turns the tables and turns a pursued into a pursuer! So the steepest incline can't be steep enough not to be conquered effortlessly. The improved chassis, the pimped front suspension and the new elements of the brakes from Brembo simply make you want to take on the challenges of the Alpine passes.
On the move in the mountains with 11 or 14 hp
Okay, that not everyone can afford such an expensive two-wheeler, we let that apply. With about 11 hp of a Primavera 125 goes well. Who wants to be more powerful on the road, puts on a GTS 125. The 12 Newton meters at 6,750 revolutions guarantee a stronger thrust (compared to the Primavera), which is quite noticeable in the mountains.
On steep mountain passes, we don't have to worry about starving to death during the climb. Nor that it constantly makes "whoosh" when a stronger scooter rattles past us.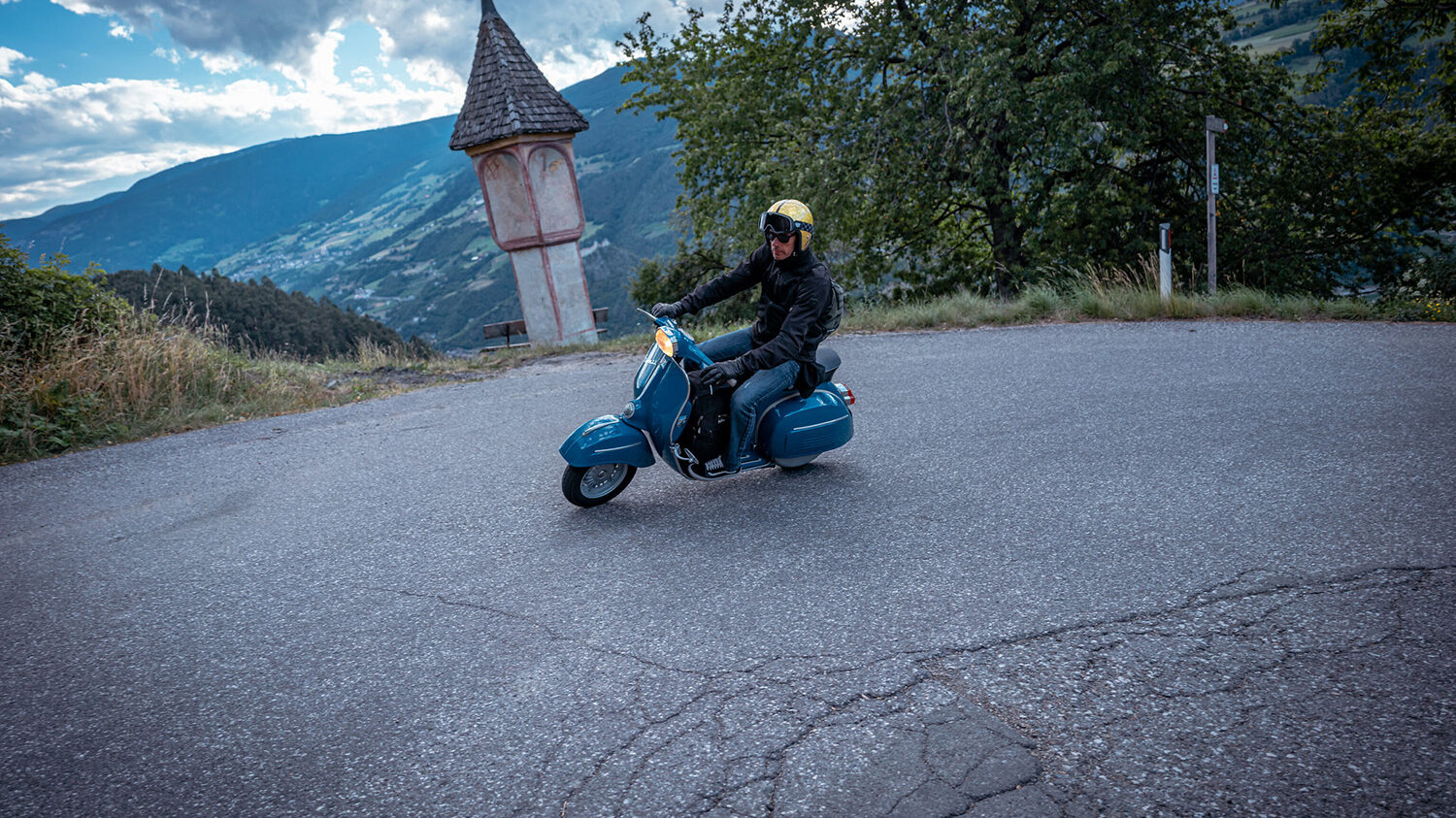 Tips for mountain riding with the Vespa
Remember that in spring not all frost damage has been removed, so ride adapted to the road conditions.
For suitable clothing is worth a look in the SIP Scootershop, there you can find clothing for all weather conditions
Carrying different carburetor jets for replacement is nonsense; the Tyrolean Vespa drivers would otherwise have to change the jets several times on the hilly and sometimes steep roads in their home country
Expert tip: Before the trip, tune the scooter with a lambda probe to AFR 12.8-13 (gasoline-air mixture), then the Timmelsjoch can be done without any problems (about 2500 m above 0, gradient about 10%). The additional jets can confidently stay at home; disc brakes would not be bad
On longer downhill runs, pull the clutch every now and then and cool the cylinder with fresh gas by short gas strokes (to support the fan wheel)
alternately brake carefully, rather short and more often than long and continuously, take enough breaks, then there are no problems with overheated brakes and piston jamming due to insufficient lubrication
some Vespisti turn off the engine downhill and just let the vehicle roll. Extreme caution is advised, because in unlit tunnels burns on the scooter with the engine off also no light, increased risk of falling. In addition note: When re-engaging for the purpose of restarting the engine, match speed and rpm (best to increase throttle before engaging) so that there is no nosedive.
Is it possible to ride a smaller Vespa with less power (the early models with about 1 – 4 hp) in the mountains?
We find that the less powerful models such as the small, lighter Smallframe (50 -models in all, often improved/modified variations) are less suitable for mountain riding. With enough time and patience, you can certainly get there eventually, but faster than snail's pace should not be expected.
The smallest Vespa, Primavera S 125
The Primavera S 125 is so small that tall pilots are initially surprised to wonder how they are supposed to fit on it. However, this is a Vespa phenomenon: pilots of all sizes can fit on every model, regardless of whether they are tall or short, fat or thin.
With 11 hp, this is agile and smooth, preferably suitable for city use, including a gentleman's start at the traffic light, and seems to be predestined for mountain riding. However, this appearance is deceptive, because it already seems underpowered on expressways. In the gently hilly landscape of Tuscany, it still copes well, but on the first real incline it becomes clear what it lacks: more power.
We know that there are clearly better 125s. This one should not be ridden in the mountains, if possible. But as mentioned at the beginning: Basically everything is allowed and in the end everything brings you to your destination. Everyone after its own discretion.
Many a Vespisti uses a ride on alpine passes in South Tyrol for photo shoots, simply for relaxation and comfortable chugging with the Töff in fascinating surroundings. A detour to the Tuscan vineyards rounds off the trip perfectly. The high road from Obergurgl to Merano in Tuscany is just under 64 km long, a good 1.5 hours with a Vespa.