How do I take my dog safely on the Vespa?
If I had not seen it with my own eyes, this would have been strong stuff for me.
A medium-sized, black dog was standing in the hatch of a Vespa (between the legs of the
Pilot), the paws on the handlebars. And he had obviously great fun, although the
Scooter stood and did not drive. Whether the police would have just as much fun with it?
In principle the Mitnahme of a dog is permitted, if the defaults are converted correctly.
These are regulated in the StVO (Road Traffic Regulations), § 23 paragraph 1:
"Whoever drives a vehicle is responsible for ensuring that his vision and hearing are not impaired by the
occupants, animals, the load, equipment or the condition of the vehicle are impaired. Whoever
drives a vehicle shall also ensure that the vehicle…. and its load and occupancy are in accordance with regulations and that occupants are in accordance with the regulations and that the traffic safety of the vehicle does not suffer as a result of the load or occupation does not suffer."
Clear thing, to which there is not much to add. Except that a dog is considered a load before the law,
which must be adequately secured. This is crucial for the insurance or the
Coverage of any damage that may occur.
Our Tip:
Who wants to take along his animal on the Vespa, should clarify with the insurance FIRST, whether and
under which circumstances the animal is also insured. In the worst case it can happen that
Vespa pilots have to pay for a damage out of their own pocket. It is doubtful that this can be
can become violent, nobody doubts. It is best that the insurance proves its statement
in writing, if it is not already regulated in the insurance policy. Just in case.
Is anything permitted that pleases?
Unfortunately not. Please don't get the idea to build a DIY transport system. tinkering. In the end, the result is a caravan for the dog or a sidecar that is in danger of falling apart. The next police check is bound to come, and yes, it will be just like a breakdown: It's guaranteed to happen at the wrong time.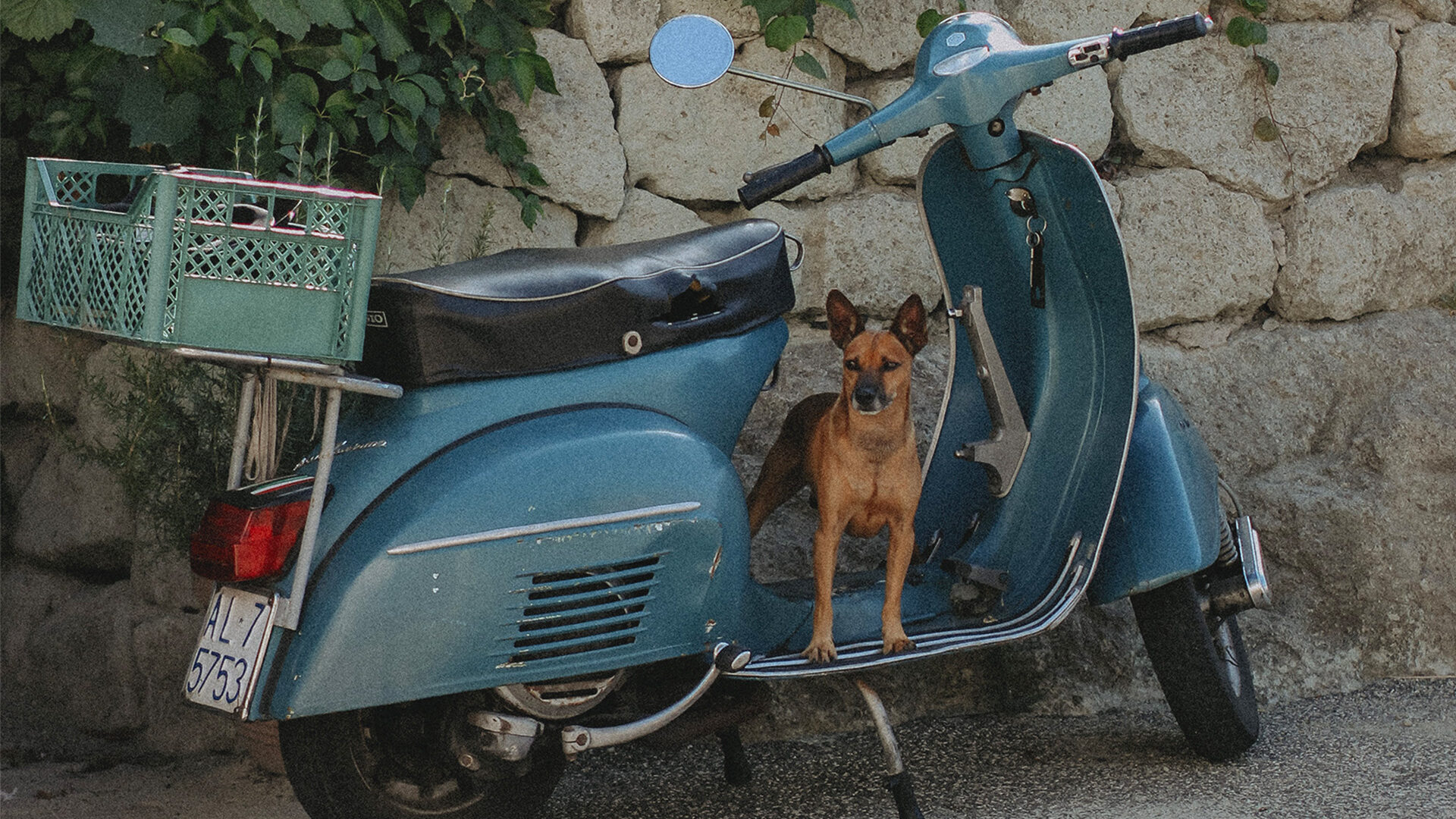 Does my dog need protective clothing?
Generally, it is not mandatory to put a helmet on your dog, as they are often mainly annoying for the quadruped. However, some dogs with sensitive eyes may benefit from dog goggles while driving, these are available to purchase online in plentiful sizes and shapes.
Permitted transportation options for the dog
Amazed at how many variations are actually offered on the Internet, we would like to present here
present a small, representative selection. As with all things that can be purchased,
it is also in this regard a question of budget or willingness to invest.
Vespa drivers with enough money can buy a special dog trailer, like
such as:
Trailer LEGENDBIKES at SIP-Scootershop in Landsberg/Lech, with TÜV, an eye-catcher in the classic
classic look, based on the Czech predecessor PAV from the 50s, which enjoyed
enjoyed great popularity.
The single-track trailer currently costs € 2029,– incl. VAT, free shipping within
Germany
dimensions: L 1210 mm, W 570 mm, H 620 mm, primed, with TÜV certificate
a smaller version is available for
Vespa 125 VNA/VNB/150 VBA/VBB, costs € 1969 incl. VAT, no shipping costs
because of strong demand this trailer has a current delivery time of about 4 weeks!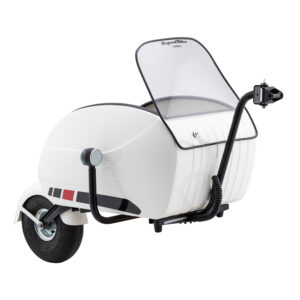 Important to know: The enclosed TÜV Süd certificate must be presented to the responsible road traffic road traffic authority for the purpose of issuing an individual permit in Germany.
The different model variants differ only
in the height of the drawbar, model-related
the connection plate/coupling => trailer to the vehicle
The permissible total weight is 50 kg. A dog with approx. 30 kg may be transported legally.
be transported.
Also for Vespisti, who do not want to invest so much money, there are
affordable products:
Inexpensive transport options
Material luggage basket: metal/imitation leather
Inner bag material: polyester
Embroidered "Classic" logo
Dimensions inside bag: 30x30x18 cm
With "Classic" logo lettering
Dimensions luggage basket: 360x320x280 mm
Rain cover included
Mounting on luggage rack / luggage bridge
Also available as kit incl. luggage rack
Features: Canvas outer shell, laminated inside with Amara faux leather made of 50% polyester and 50% cotton
Bottom and details anyway reinforcements and flaps of the outer shell in 100% chrome tanned buffalo leather
The 4 cm wide flaps are made of thick and strong leather It includes a laptop compartment and a zippered pocket
All hooks, loops, buckles and snaps are made of antique vintage metal
HolyFreedom® personalization through embossing
100% Handmade
Capacity: 14-18 liters
Dimensions: 45cm x 30cm x 14cm (rolled up)
Logically, with a dog in the backpack, the upper part is left open and just turned over so that the head remains free
With both products, it is important to check the dog's security and adjust it to the dog's size.
And, hand on heart:
The leisure value so properly enjoy only goes if the quadruped can be present. That alone
counts.