The speedometer is undoubtedly one of the most important instruments on a scooter or motorcycle. It not only provides important information about speed and rpm, but also contributes significantly to the overall appearance of the vehicle. SIP Tacho Karacho is a product that perfectly combines both – precision and style.
SIP Tacho Karacho is a versatile rev counter and speedometer designed specifically for scooters. It features precise measurements and high-quality workmanship. With a diameter of 48 mm and a clear, easy-to-read display, it provides all the important information that Vespa riders need. The tachometer can display speeds of up to 160 km/h and is suitable for Vespas with 12-volt electric systems.
The speedometer is available in two different versions for the Vespa: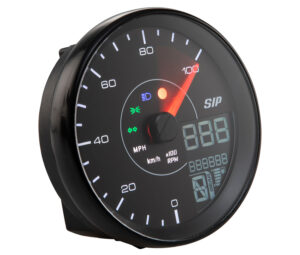 1. SIP TACHO KARACHO up to 100 (km/h/mph) / 10.000 (Umin/rpm)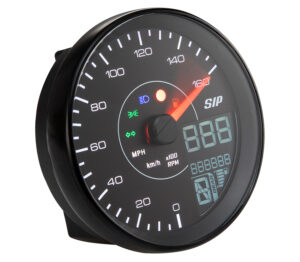 2. SIP TACHO KARACHO up to 160 (km/h/mph) / 16.000 (Umin/rpm)
Installation instructions for the SIP Tacho Karacho
Installation of the SIP Tacho Karacho is simple and straightforward thanks to the instructions provided. Here are some important steps you should follow:
Step 1: Preparation – Make sure you have all the tools and materials you need handy before you begin the installation. This usually includes a screwdriver, cable ties, and possibly a drill for installation.
Step 2: Remove the old speedometer (if you have one) – If your scooter already has a speedometer, you will need to remove it first. This is usually done by loosening screws or clips.
Step 3: Wiring – Connect the wires from the SIP Speedo Caracho to your scooter's electrical system according to the instructions in the manual that came with it. Make sure all connections are tight and secure.
Step 4: Mounting – Attach the SIP Speedo Karacho to the desired location on your scooter. This can be on the handlebars or any other suitable location. Make sure that the speedometer is mounted securely and stably.
Step 5: Calibration – Make sure the speedometer is properly calibrated to get accurate speed and RPM readings. This may vary depending on the model, so it is important to consult the instructions.
Technical details of the SIP Tacho Karacho
The SIP Tacho Karacho offers a wide range of features that make it a versatile instrument for scooter riders. RPM can be measured in analog, depending on the model, up to an impressive 10,000 or 16,000 rpm, with the maximum speed being 16,000 rpm. As an alternative to the analog RPM display, speed can now be displayed in analog up to 100 km/h or 160 km/h, while the digital display allows speeds of up to 260 km/h or 160 mph. The speedometer features a target speed indicator by flashing the speed on the display and also offers the ability to set a target distance, which is especially useful for maintenance intervals.
With an adjustable odometer, the speedometer reading can be transmitted and tracked. Additionally, there is the ability to teach gear indicators, use a fuel gauge with level warning, and display temperature in the range of 0 to 250 degrees Celsius or 32 to 482 degrees Fahrenheit. An included temperature sensor allows monitoring of cylinder head or water temperature. For more accurate engine performance monitoring, an EGT temperature display with a SIP exhaust gas temperature gauge from 100 to 1200 degrees Celsius is also possible, as well as an AF display with a SIP lambda probe from A 10.0 to 24.0.
The speedometer also records maximum temperature and provides a total distance display up to 99,999 km/miles, which is adjustable to carry over the old speedometer reading. Individual routes A and B can be tracked up to 9,999.9 km/miles, and travel times A and B can be recorded up to 99.59 hours. The average speed for both routes can be up to 260 km/h or 160 mph. In addition, there is a DC low voltage warning, a maintenance interval indicator, a shift flash indicator, and the ability to adjust the brightness of the speedometer light in five different levels. The fuel, turn signal, high beam, low beam and shift flash indicators round out the functionality of this speedometer.
Conclusion
The SIP Speedo Karacho is not only a precise instrument for measuring speed and RPM, but also a stylish accessory for any Vespa. With its easy installation and high-quality workmanship, it is a recommended addition for all scooter riders who value both technical precision and aesthetics. However, when purchasing, always follow the specific instructions for the personal scooter model to ensure smooth installation and accurate measurements.