In recent years, a small scene of enthusiastic tinkerers and hobbyists has developed around the iconic "Faro Basso", as Vespa wideframe tuning is becoming increasingly popular. The old scooters, which mostly lie dormant as collector's items in some garage or cellar, are often only used for short trips, if at all. For longer trips, the old engines lack confidence and the low engine power of 2-3 hp also makes the old ladies look rather weak in today's road traffic.
So the wideframe fans get to work and optimise overflows and timing on the original cylinders, change pistons, mount the most diverse types of carburettors etc.
If you want to plunge into the world of wideframe tuning, you should first make a basic distinction between the two different engine types of wideframe Vespas:
1-channel engines
This type of engine is also called a 1-overflow engine and can be recognised by the exhaust pipe running along the side. There are only a few tuning options here: e.g. the CP19 carburettor kit, air filter, the CNC cylinder head and a contactless ignition system. But even with these few options, a performance increase can be achieved.
2-channel engines
This model, also known as a 2-overflow engine, can be easily recognised by the downward running exhaust pipe. Here, impressive results can be achieved with a few modifications. With the appropriate parts, the engine power can be increased to 10-14 hp, with a powerful 15Nm of torque. With this, the old scooter with the charming tubular handlebars can keep up in road traffic and certainly climb a hill or two.
A used 2-channel engine is quite easy to get for about 250-300 €. Even a 1-channel motor can be replaced quickly.
Since many products are now ready for series production, they are easy to assemble. Options include aluminium racing cylinders from PINASCO with 160ccm, reinforced crankshafts from TAMENI & SERIE Pro by Stoffi, carburettor kits based on the POLINI CP models, racing exhaust systems from SIP, maintenance-free electronic 12V ignitions, longer gear ratios, improved clutches and suspension parts. This opens up a whole new world for Faro Basso enthusiasts. The scooters become suitable for everyday use and road use while retaining their classic 50s charm. All conversions can also be reversed at any time.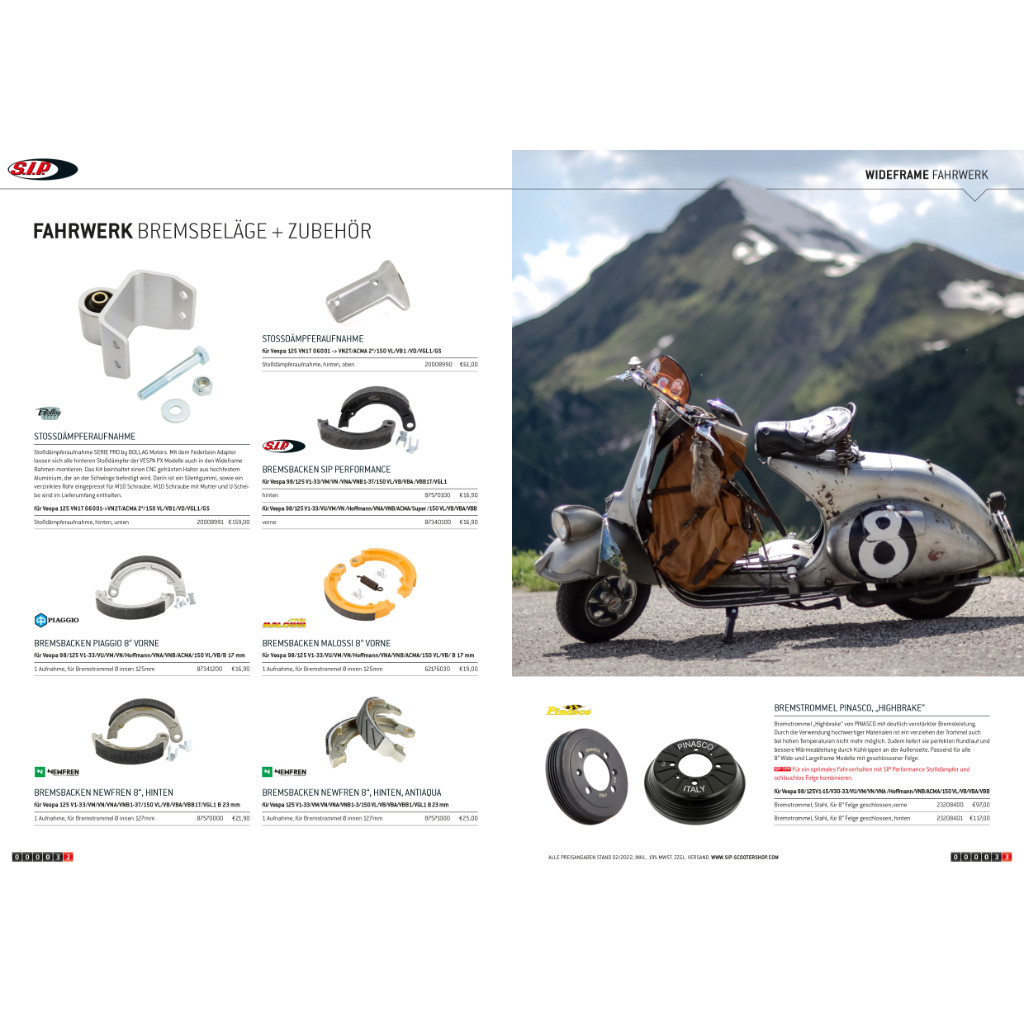 All in one catalogue
SIP Scootershop offers a wide range of accessories and spare parts for all those who now want to dive into the world of wideframe tuning. There is also good news for those who are more in the category of print fans: Just like for Modern Vespa and Lambretta, SIP has published its own accessories and spare parts catalogue for the Vespa Wideframe, i.e. the tubular handlebars from year of manufacture 1946 to approx. 1957. Of course, this catalogue can also be browsed online.