SIP Scootershop is one of the world's leading mail order shops for Vespa accessories and spare parts, with more than 300,00 customers worldwide, from over 50 countries. The stock comprises more than 55,000 different items, with a daily dispatch of up to 1,000 packages.
But if you really want to experience the Vespa feeling live, you should pay a visit to the SIP Scootershop flagship store in Landsberg.
What is so special about this store?
Anyone who thinks that a Vespa shop only sells Vespa-related items will be proven wrong here. The love of the Italian way of life that characterises most Vespa enthusiasts is also satisfied here in a culinary way. In an Italian bar integrated into the shop, the Siperia Landsberg, which is as charming as it is authentic, pizza, panini and espresso make the Italian heart beat faster. In the summer, there is even an outdoor area for guests to enjoy a good espresso and a daily changing lunch menu while chatting with like-minded people about their favourite topic in a relaxed atmosphere.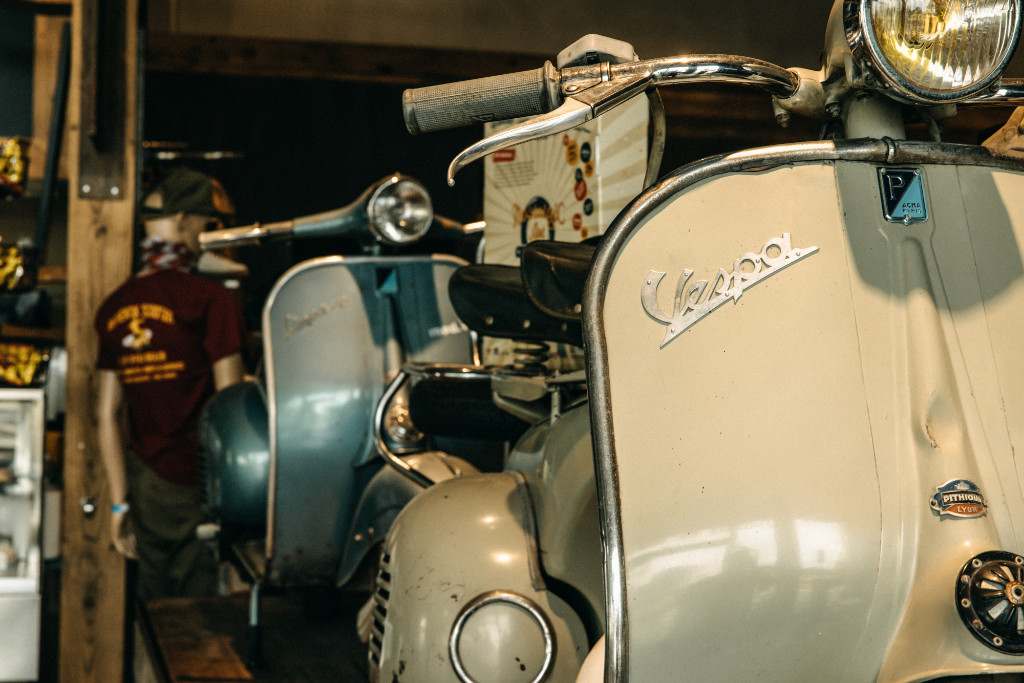 What is the range of goods like?
The shop offers a selection from the entire range of 55,00 Vespa-related articles, because all articles available in the online shop can also be purchased here directly at the counter. The special highlight here is the personal advice given by the staff of the Vespa Workshop, who are of course all passionate and enthusiastic Vespa riders themselves and can therefore not only actively support customers with all their problems, but are also passionate about doing so. The range of products in the shop is not only made up of accessories, tuning and spare parts for the Vespa. The shop in Landsberg also sells an extensive range of helmets, protective clothing, gloves, jackets, T-shirts, jumpers, scarves, visors and motorbike goggles. In addition, there is a wide range of various accessories and also books that deal with the subject of motor scooters.
A large part of the articles sold here come from the company's own development department. This means that from the initial idea, to implementation, to distribution, and then finally to shipping, all steps can be implemented in the flagship store in Landsberg.
What is the Open Dyno?
Once a month, the shop offers test bench rides after prior registration via the Internet. This is then the so-called Open Dyno. On this date, the scooter can be brought to the workshop and then put on the test bench to see what performance it actually has. This monthly event becomes quite extraordinary when the Open Dyno coincides with an Italian Aperitivo event. The coincidence of these two dates happens frequently, but unfortunately not always. However, if the right date is caught here, an extraordinary Italian evening is assured.
How can I find the shop?
The shop is conveniently located in the Frauenwald industrial park in Landsberg and can therefore be easily reached by all Vespa enthusiasts.
Here's another little insight from Jesco from SIP Scootershop on his tour of the shop: