Anyone who rides a Vespa knows the problem: The engine speed is often too high. The rider never knows exactly when the engine will stall. A tachometer makes it easier to find the perfect speed and protect the engine from stalling.
Unfortunately, not all Vespa models have a tachometer built into the speedometer. Most Vespa scooters have a small, round speedometer attached to a dashboard. However, some Vespa scooters also have a larger, rectangular speedometer.
However, a tachometer can be retrofitted to most Vespas. For this purpose, there are add-on tachometers. Such an instrument can be mounted either on the handlebar or on the side of the vehicle. Visually, this is often not quite ideal. Especially with particularly beautiful Vespas, this is not an option for many owners.
Another option is to replace the existing speedometer with a speedometer/tachometer combination. In some cases, there are matching original speedometers that have a tachometer integrated. Unfortunately, this is not the case with many older models. Then you have to fall back on alternatives.
What distinguishes a good Vespa tachometer?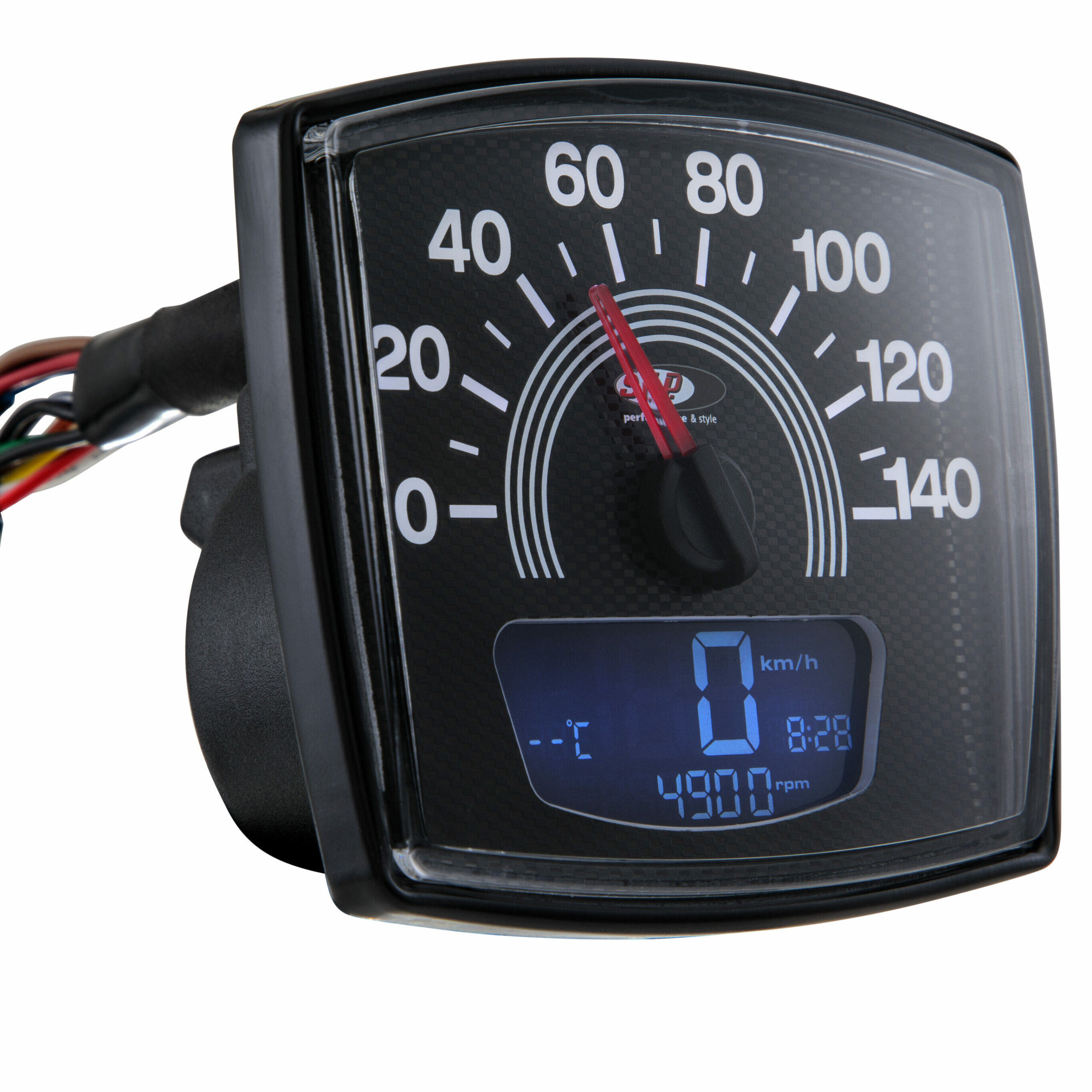 There are many tachometers from different manufacturers on the market, but not all of them are equally good. These points should be paid attention to when choosing:
Tachometers must be accurate and easy to read. They should also be weatherproof and shockproof, so that the joy of the new tachometer lasts for a long time.
The small, round tachometer is usually easier to read than the larger, rectangular tachometer. The small speedometer has the disadvantage that it cannot display as much information as the larger speedometer.
What to look for when buying a tachometer?
When buying a tachometer, there are a few things to consider. First of all, you need to make sure that the tachometer is suitable for the particular Vespa model. This information can be found in the user manual or from the manufacturer.
It should also be ensured that the tachometer is approved in Germany. Otherwise, you may be in for a nasty surprise at the next TÜV inspection.
Install tachometer
Installing a tachometer is relatively simple and can be done in just a few steps.
If you have a little skill, you can do the installation yourself. The following steps are to be observed:
After installation, the tachometer used should be tested. It must be ensured that all cables are connected correctly and the meter is working properly.
Those who do not trust themselves to install it can have it done by a specialist workshop. The cost of this is between 150 and 200 euros.