The classic Vespa – the most beautiful way to get around on two wheels. The unmistakable smell of the two-stroke engine and the unmistakable rattle. Pure driving pleasure for all fans of the models of Vespa.
The main facts
1946 began the sale of the first Vespa. Since then, they have been unstoppable. Well-preserved Vespa vintage cars have a stable market value to this day and are particularly sought after. Up to a mid four-digit amount you achieve on the market.
Since the beginning of production, over 18 million units have been sold. No scooter has ever been more successful – every third scooter on German roads is a Vespa.
The first Vespa was nicknamed Paperino, which meant duckling. It had a high speed of 60 km/h and an engine capacity of 98qm³. Duckling was invented by Corradino D'Ascanio – an engineer who was commissioned by Enrico Piaggio to design his first scooter. A remarkable achievement, since until then he had only worked on war planes. The people who had survived the war were now in need of inexpensive vehicles that could travel on the damaged roads. It was also very important to the engineer that the design was innovative and appealing. His goal was to create a scooter that could be sold for decades to come. An ingenious concept – with success.
The characteristic features , such as the self-supporting body , the side engine and the direct drive , have helped to give it a special status among the Italian population and spread its popularity across entire continents. The Vespa has always had a special place in our hearts.
Accordingly, the much sought-after vehicle should be treated with care.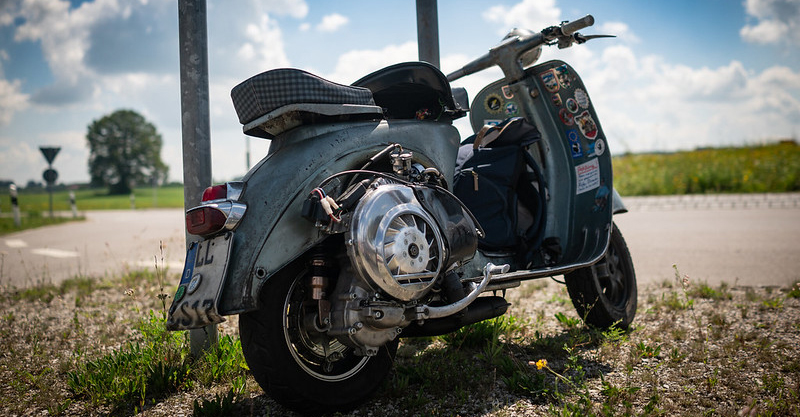 To ensure the preservation of the Vespa for years to come, the following tips should be followed without fail:
Care and maintenance are the key
Repairs are usually associated with high costs. This can be prevented by regular care and maintenance. For the long-lasting enjoyment of a Vespa classic car, the following care tips are a life extension for the vehicle:
Basic cleaning should be done by hand and not with a high-pressure cleaner. This can prevent layers of grease on bearings and wheels from coming loose and damaging the electronics .
Cleaning agents should also be chosen wisely. On the market there are special Vespa cleaning and paint care products that are recommended to clean and protect the classic car optimally.
Chrome parts should be treated particularly gently during cleaning to avoid scratches.
To protect and preserve the paint, it is advisable to apply wax-based paint care products with a polishing sponge and work them in in a circular motion. This can also protect the Vespa from environmental influences. The chrome parts should also be treated with it.
For unpainted plastic parts, there are special plastic cleaners that protect against sun fading and corrosion.
The heart of every Vespa is its engine. This can be well lubricated by using all-purpose oil and thus also significantly increase the service life. Connecting elements, such as screw heads and other zinc-plated attachments, are protected and sealed by the protective film created when the oil is used.
The regular oil change with oil filter change must also be carried out. This can also be done at a specialist workshop as part of an inspection.
In order to ensure roadworthiness, wear parts such as brakes and V-belts must be replaced at regular intervals. Attention should be paid to the quality of the spare parts and to possible original parts.
If the vintage Vespa is technically and visually in good condition, there is one more important factor to consider:
Choosing the right insurance
Especially when it comes to a classic vehicle, an all-embracing insurance cover is indispensable.
A Vespa classic should be insured against theft, damage and accidents. On the one hand, spare parts for an old Vespa are difficult to obtain and therefore correspondingly expensive. On the other hand, vintage Vespas are unfortunately more and more often objects of theft due to the market value. The Vespa should therefore also find a place in a protected garage.
Many insurers offer an all-round protection at fair prices due to the market value.
If these simple but effective tips are applied, the fun on a vintage Vespa will last a long time.