A Vespa is beautiful. And usually beautifully well-behaved. Unlike this one. It is the exact opposite of the elegant, sensual lady from Pontedera, christened "Wasp" by its inventor Enrico Piaggio, in Italian: Vespa.
The Custom 10 Inch Terror at a red traffic light in a lurking position appears somehow belligerent. Threatening, stubborn and dangerous. A killer wasp about to attack.
This "terror" Vespa fits in well with Halloween.
When the rear fairing is removed, it reveals terrifying innards. The mighty power plant flows into a gigantic exhaust that resembles a mutated snail shell.
This frightening outfit fits in well with the upcoming Halloween. A Vespa driver dressed as a vampire is indeed easy to imagine, squatting on the vehicle with a billowing cape and roaring through the eerie night.
Halloween combines Italian heart and soul, German inventiveness and American cultural heritage.
Badass starting power
A car driver's bored gaze lingered briefly on the frightening scooter. This puffed-up thing was about to spoil his lightning start at the traffic lights.
Then the traffic lights turned green. The Vespa test pilot turned the throttle with trembling fingers. The vehicle then lifted its front wheel a little way into the air and catapulted forward with great power, together with its conqueror. A thoroughbred stallion gone wild could not do better.
It is indeed hard to believe what the eye captures in irritation. The test driver admits to having had a bit of a scare himself when he drove it for the first time. After an initial few minutes of familiarisation, the aggressive vehicle is quite easy to get to grips with.
The engine responds excellently from a standing start. Thanks to its smooth and jerk-free power development from low revs, this two-wheeler is excellently controllable and almost as smooth to ride as a PX 200.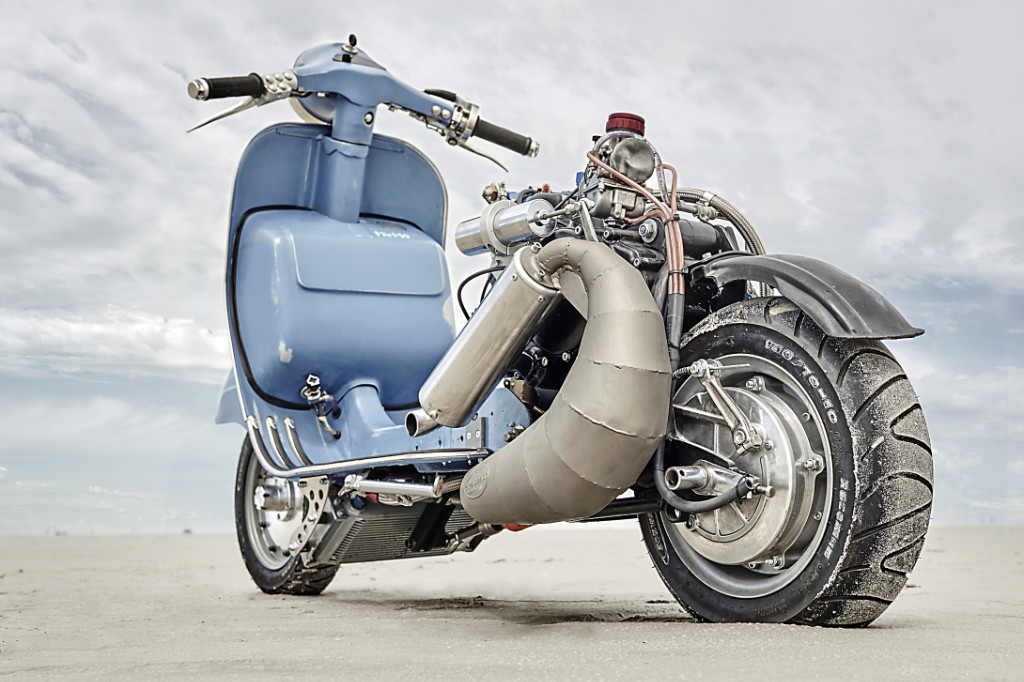 Cult magazine "Custombike
It was with great satisfaction that we registered how the cult magazine "Custombike" ennobled this bike by printing a large photo report. It was not only published in the German edition, but also as a feature in Italy (Chop and Roll) and France (Kustom). The Vespa 10 Inch Terror is probably the first scooter to make it into this noble magazine.
Technical data of the Vespa Custom 10 Inch Terror
Engine: Husqvarna WR 360, 55 hp, 45 Nm torque
Displacement 349 cm³
Gearbox Six-speed manual gearbox with kick starter
Front disc brake (self-made), the standard spoked wheel was replaced by an aluminium disc wheel (based on the Centerline rim)
horizontal shock absorber, controlled by deflection
Gearstick electric powershifter without clutch
Electrics and instrumentation by Motogadget
Exhaust by Pipedesign according to the inventor's specifications
Measures to relieve the strain on the on-board electrical system
solid shaft regulator
soldered-on Lima
Conversion of the electrics to completely DC
Replacement of H4 bulb with LED chip from Adjure (consumes only 2/3 of the current of an H4 light)
You can feel an overabundance of performance in practically every driving situation. A ride with this killer wasp gives an exhilarating feeling and previously unknown level of sovereignty.
The development of this machine took 5 years
Again and again the development was interrupted by setbacks. After removing all stumbling blocks, it was finally on the road.
Special features
The result of sheer endless gruelling work and numerous sawn, welded and milled roller parts is something to be proud of:
high stability
much stiffer rear end
removable bonnets
small compartment for oil bottle and tools (the old glove compartment has become the tank, capacity 14 litres)
Reinforced steel frame
The PX80 was used as the basic model.
To list all the numerous and extensive modifications would fill many pages.
Self-made parts (the most important)
Tank from the old glove box
Front disc brake
Seat
Swingarm
several tail parts from "slaughter wasps
CNC-milled brackets everywhere
shock absorber from Wilbers placed under the vehicle
Where there is light, there is also shadow
With all the cool features, a mid-range solution must also be mentioned in an extremely sensitive location on the Custom 10 Inch Terror:
The water cooler is mounted directly under the frame, just a few centimetres from touching the ground. How long it will remain undamaged is an exciting question.
The developer and builder of this killer wasp with a Husqvarna sting, Marek Nachlik from Hamburg, wanted to look for and find a longer-term solution.