The right place to go for needed accessories and spare parts for Vespas is for some a real insider tip. But today we show you a dealer who is absolutely not secret, but still always offers super quality and quantity: The SIP Scootershop.
In the series "Sexiest Vespa Workshop", the team from SIP travels throughout Germany to various Vespa workshops and shows special features. From Lower Bavaria to Lübeck they explore different specialists. But there is a store right under their nose – the SIP flagship store itself! So the team has introduced itself once and shows their own four walls in Landsberg am Lech and of course the employees of SIP. 2022 counted 174 employees and worldwide there are 450 authorized brand stores. All in all, SIP has a turnover of almost 50 million euros and is one of the leading mail order stores for scooter accessories, tuning and spare parts worldwide.
This time it's a relaxed trip for Jesco, the reporter who usually races around, to his own store door and his usual workplace. Anyone who thinks that a Vespashop only has articles about the Vespa will be proven wrong here in an impressive way. The love of the Italian way of life, which characterizes most Vespa enthusiasts, is also satisfied here in a culinary way. In an Italian bar integrated into the store, the Siperia Landsberg, which is as charming as it is authentic, pizza, panini and espresso make Italian hearts beat faster. In summer, there is even an outdoor area for guests to enjoy a good espresso and a daily changing lunch with like-minded people in a relaxed atmosphere to discuss their favorite topic. Every Vespa fan will certainly be happy at SIP, both mentally and materially, because not only the scooters themselves, but also any protective clothing and accessories can be found in the store area. And for the eye there are some exhibits of special Vespa models, which are otherwise not to be seen on the street. For this regular customers as well as interested people travel from near and far, the SIP Flagship Store is always worth a detour.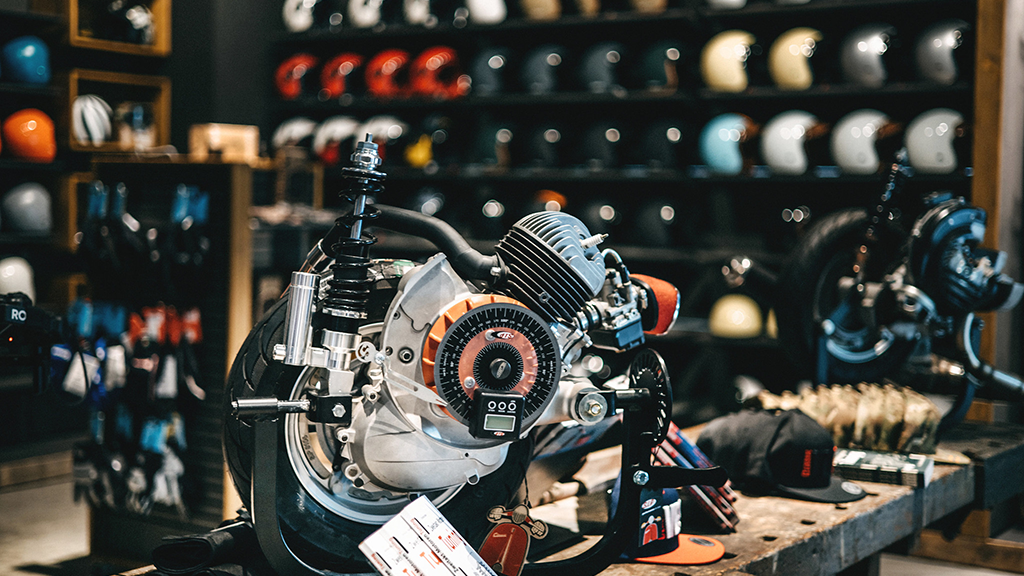 Everything directly available
A large proportion of the items sold here come from the company's own development department. This means that from the initial idea, through implementation, to distribution, and then ultimately to shipping, all steps can be implemented in the flagship store in Landsberg. The special feature of the store in Landsberg am Lech is that it is directly connected to the SIP warehouse with 5,000sqm of high-bay storage. This means that all 50,000 items from the online store can be bought and taken away directly on site. Of the online orders, 1700 packages are packed and shipped daily at peak times. In the process, experienced employees with great expertise help you organize just the right part for your Vespa model. They are all enthusiastic Vespa riders and know how to tackle where so that everything fits well.
SIP – more than a Shop
In the article Jesco also takes a look behind the scenes of SIP – From the warehouse, to the developer table, to the photo studio and finally to the sales department. Once a month, the store offers, after prior registration via the Internet, test bench rides. This is then the so-called Open Dyno. On this date, the scooter can be brought to the workshop and then put on the test bench to see what performance it actually has. This monthly event becomes quite extraordinary when the Open Dyno coincides with an Italian Aperitivo event. The coincidence of these two dates happens frequently, but unfortunately not always. However, if the right date is caught here, an extraordinary Italian evening is assured. The SIP Community invites you to a relaxed get-together and is always a pleasure for young and old.
For an even closer look, here is the video of the Sexiest Vespa Workshop: SIP Scootershop. Or the best is to visit the SIP flagship store directly in Landsberg am Lech, Marie-Curie-Straße 4. Whether spontaneous trip or planned major conversion of the Vespa, the SIP team is happy about every visit!