So much has been published about the cult scooter in printed and bound form that it would go absolutely beyond the scope of this article to present it all. This short excursion into the rich reading material section of the Vespa world is therefore intended to provide a small introductory overview with a few selected recommendations.
Vespa Manual: Operation, Repair, Tuning and Restoration
Many Vespa riders are not only enthusiastic drivers, but also hobbyists and like to put their own hands on their beloved ride.
The Repair Manual series offers professional guidance for maintenance and repair, organised by model series. Some examples of the many topics covered in such a volume:
How to carry out regular checks, maintenance and inspection yourself?
The correct care of the Vespa, from washing to polishing.
What tools are needed?
How to correctly mount and dismount fairing parts, glove box and seat?
How to check and adjust the suspension and steering bearings correctly?
Checking and changing the wheels and wheel bearings.
Any question that can be asked: there are answers here. Lighting, electrics, battery, spark plugs, exhaust system, cooling system and much more are described here in detailed step-by-step instructions. The best-selling series is a real treasure trove for experienced mechanics and all those who want to become one. One volume costs 34.95 Euros.
The Vespa collector's item
In the multi-volume series Vespa Tecnica, technical manual and illustrated book come together to form a real feast for the eyes.
The first five volumes present all models of the Vespa from its beginnings to the present day. The detailed model descriptions are fully illustrated with high-quality photos.
In addition to the technical model description, detailed articles also contain original data sheets, which are very easy to read due to the precise printing, as well as lists of frame numbers.
Those who are particularly interested will even find photos of original wiring diagrams, old approvals and homologation and conformity documents.
The sixth volume deals with the colour scheme of the Vespa from 1946 to 1976, listing the chassis numbers and original colour codes of the Max Meyer company. In addition, this volume comes with a high-quality colour fan, which explains the proud price of 155 Euros, while the other five gems are available for 78 Euros.
Watch out, the series is limited!
The Affordable Vespa Book
The beautifully illustrated and colourful volume Vespa: The Story of a Legend from its beginnings to the present day. The chronicle with all models, prototypes and special models contains photos, construction drawings and advertising material of the first hour, some of them published for the first time.
The large-format pictures of the Vespa models in particular are sure to make Vespa lovers' hearts beat faster.
In addition, anecdotes paint a vivid picture of the entrepreneurial and inventive spirit that sent the Vespa on its world-spanning triumphal march from Italy.
For an astonishingly low price of 24.95 euros, this large-format volume is a real surprise and particularly suitable as a gift for yourself or dear Vespa friends.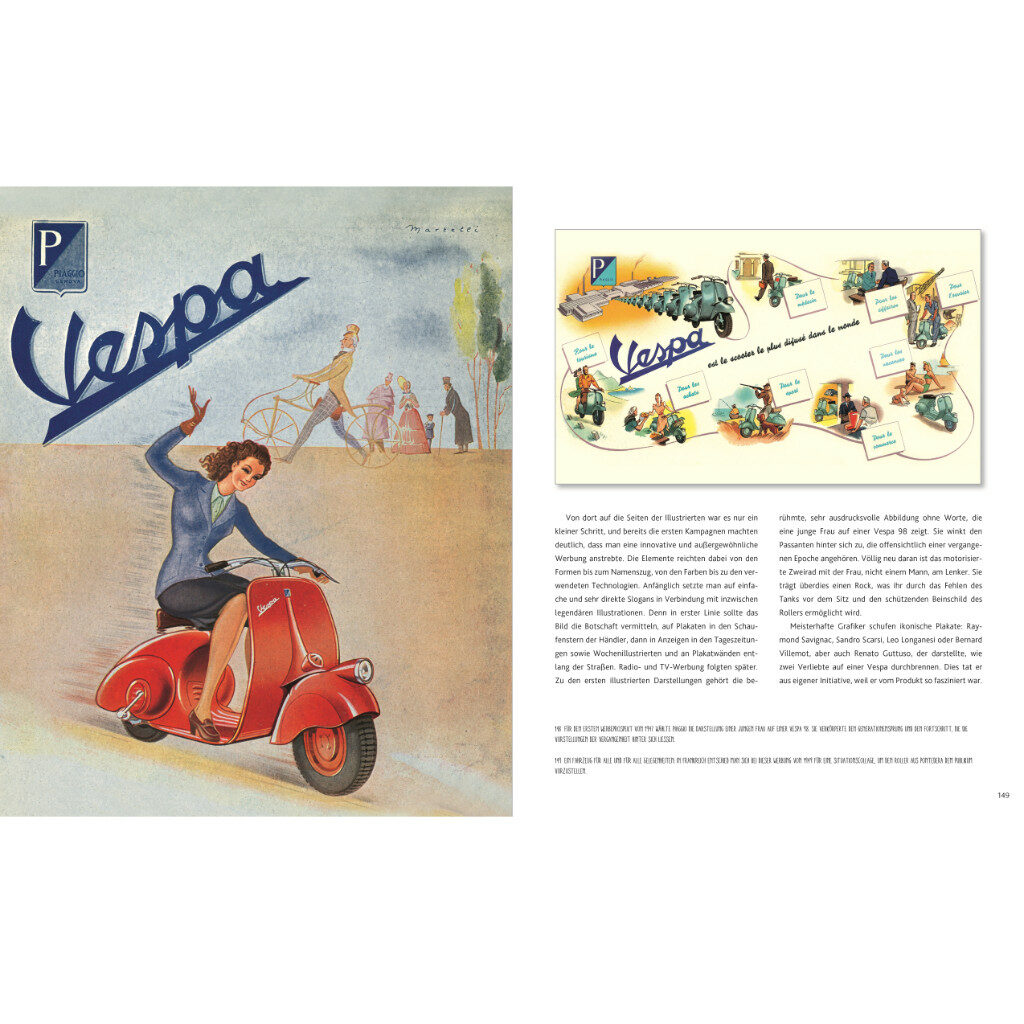 Psst! A little insider tip for your (inner) child
The children's book Enrico's Vespa – A Journey through Europe contains beautiful hand-drawn pictures by Elena Pongiglione, the creator of all Vespa advertising graphics from the mid-1950s onwards. For about 10 years Elena created the still iconic and beautiful advertising images until photography entered the Vespa advertising world in the 60s.
In the 50s, Elena won the most important Italian art awards as a young artist. As a woman in a leading position in the advertising department at Piaggio, she caused a sensation. The male world of the time – unfortunately also in the Piaggio ranks – was not without exception enthusiastic about this. The signatures were even removed from some of her advertising graphics afterwards.
Times have changed, thank goodness, and this wonderful book pays tribute to Elena's art in an enchanting way. It retails for 24.90 euros and takes you on a journey through Europe with Enrico, his friends and Papa's Vespa.
There is even a double-sided dice game and a craft sheet at the end of the book.
This little treasure is perfect as a read-aloud book and for children big and small to dive into.
The Stylish Vespa Magazine
The English-language magazine ScooterNova, edited by Andy Gillard, with its stylish covers, is published every two months and costs €5.40.
Since its first issue in April 2017, ScooterNova has kept the scooter community up to date – oh no – rolling – in richly illustrated reports. Detailed reports that revolve around the Vespa cannot be missing, of course.
For even more exciting reading from the world of the Vespa, it's worth taking a detailed look at SIP Scootershop's wide range of reading material. Little hint: If you're still looking for a great Christmas present, you're sure to find something there!