Driving a Vespa is fun on its own, but in the company of other enthusiasts it is a completely different experience. For a relaxed and interesting excursion for young and old, the Open Day of SIP Scootershop on 20.05.2023 is ideal. It doesn't matter whether you arrive by Vespa, car or even bus, the flagship store in Landsberg am Lech welcomes everyone!
Perfect start into the scooter season
The winter disappears into the past, the temperatures rise. And like every year, the start of the scooter season is in Landsberg am Lech! Last year came about 2000 scooter riders from near and far. This year the date 20th May lies particularly favorably, since in Bavaria on Thursday before with Ascension Day a bridge day for a long weekend can be used! Also for the rest of the country the Open Day is absolutely worth a side trip to the south of Germany, many also take the time and travel from neighboring countries. Even if you are just passing through, the SIP team is happy to welcome all visitors.
Food, Knowledge & Entertainment
The physical well-being is well provided for with excellent pizza from the stone oven and the popular service of the in-house SIPERIA cafe bar. Thus, an authentic Italian flair is also provided, which is not limited to the scooters.
Besides the nice get-together there are also some interesting offers for owners of Vespas. Apart from the huge selection of the SIP Scootershop itself, they offer again a parts and used scooter market.
Anyone who arrives with the Vespa also has the rare opportunity to make performance measurements on the in-house calibrated P4 Amerschläger test bench for 10 € voluntary donation. So you can test exactly how much your Vespa has on it and especially whether something is wrong and possibly needs to be repaired. The experienced team of SIP guides you through the whole testing process and helps with any questions and problems.
SIP Scootershop Open Day is an event for the whole family. With pleasant music from DJ Leo Ernst (Atomic Cafe Munich) it is pleasant to sit. For the little ones is provided for enough run and occupation, the area of SIP offers itself as an ideal playground.
For impressions from last year, the following blog entry from SIP can be read, the anticipation really comes up! Blog entry: "Open Day 2022 at SIP Scootershop".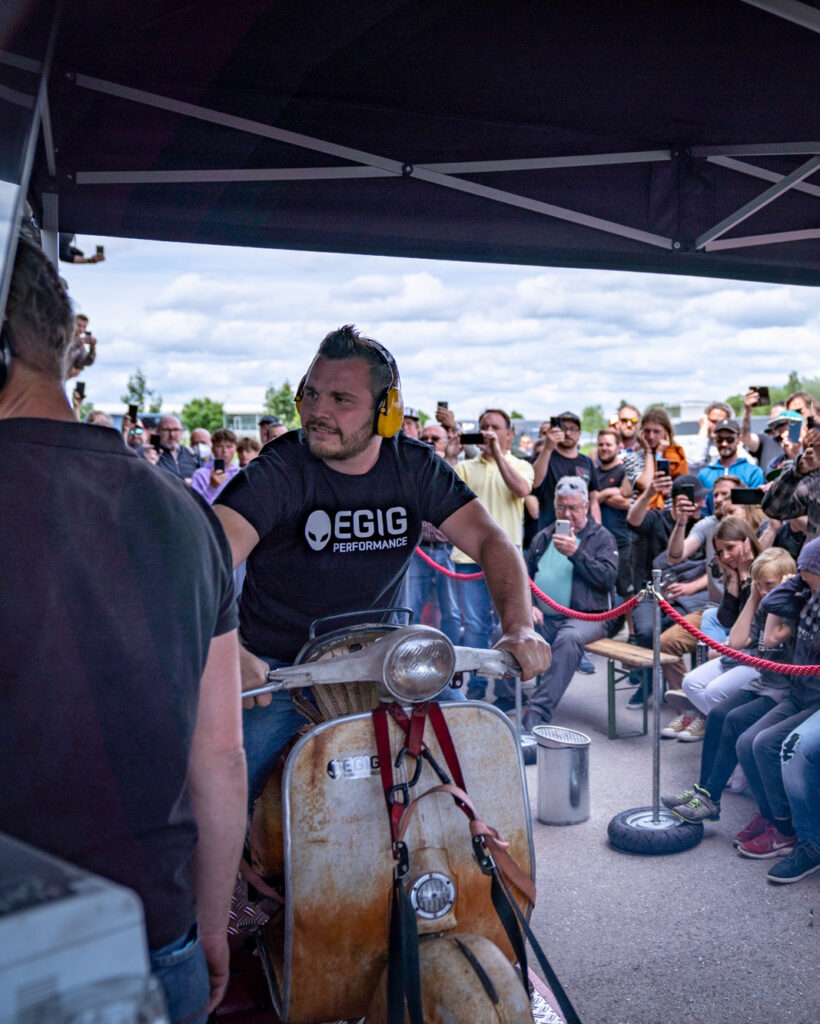 Info and updates
The event will take place on 20.05.2023 from 11am on the premises of the SIP Flagship Store, which can be found at Marie-Curie-Straße 4, 86899 Landsberg am Lech.
To get the latest information and updates about the SIP Open Day 2023, take a look at the SIP Open Day Facebook event. Stay up to date by clicking on "pledge" and share the event with your friends. The more the merrier!
The SIP team is looking forward to welcoming you on the 20th of May!