If you love cult, you ride Vespa! It was the first motorized two-wheeler after the devastating war years. It was a vehicle that stood for innovation, joie de vivre, freedom and departure. The Vespa was a statement at the time and has remained so to this day. No one knows this better – and no one loves them more – than Vespa Club of America President Josh Rogers.
If you love the Vespa, you definitely don't want to miss this episode of the new Vespamania format. Because here are presented all those people from around the world who have lost their heart to the Vespa. Josh Rogers is one of these crazy people and over the years he has built up a very large and impressive collection. That he from his home San Jose in America is therefore also president of the Vespa Club of the United States, is therefore not surprising. Therefore, he may not be missing at Vespamania.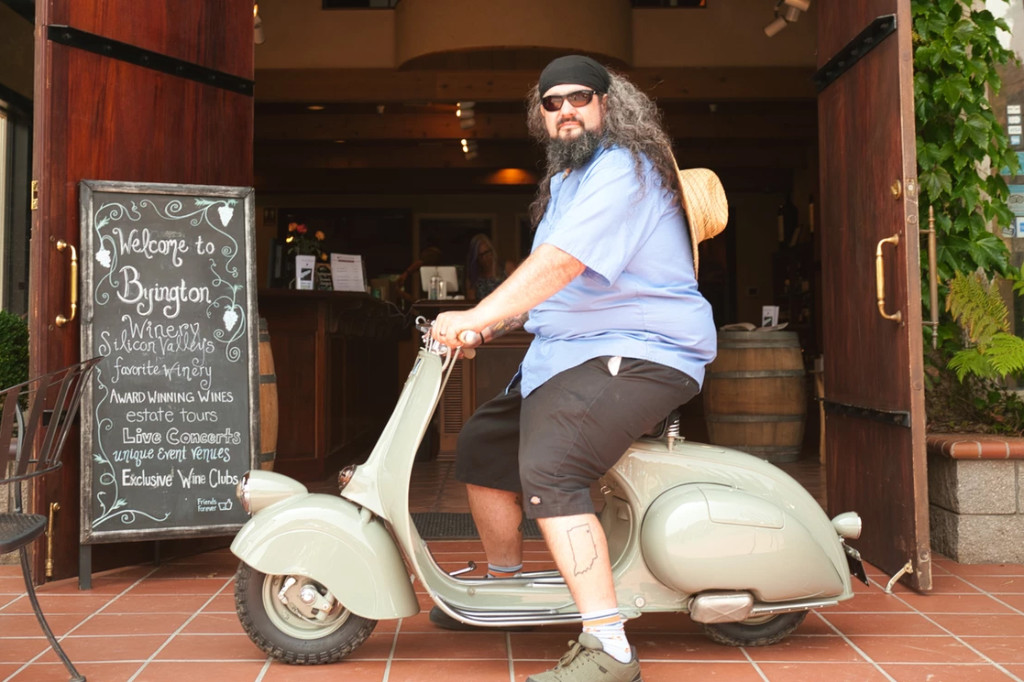 What does his Vespa collection have to offer?
A P200 from the 1980s! A Primavera year 1974! An SS180 and also a GS 150 Cushman! Just to name a few of the gems that Josh Rogers can call his own. His favorite Vespa, however, is his 1956 Ape Rickshaw, although his 1946 Vespa 98 is also very dear to him. With such old gems, it's impossible to decide on a favorite. However, the Vespa 98 is one of the first and thus oldest Vespas in the world. There all collector's hearts of the Vespa lovers beat immediately much higher.
Mister Rogers enjoys, like his Vespas, meanwhile also cult status in the States. Although the first impression of the man, who is just under two meters tall, would tend to suggest that he rides larger two-wheelers around the States. But when Rogers starts talking, you can immediately sense his passion, his euphoria and his love for the little two-wheelers.
The fact that the Vespa is now a cult in the States is due in large part to Josh's commitment. He has used his position as editor of SCOOT magazine to make the Vespa better known. In addition, he has been president of the largest Vespa club in the States for many years. This counts meanwhile over 2000 proud members and is considered as umbrella organization for scarcely 30 further small clubs beyond the borders of the states.
The annual Vespa festival Americespa annual rally with race has been cancelled in the last two years due to Corona, but is planned again for 2022. This time in Twin City, Minnesota.