Rizoma, a name synonymous with premium quality and innovative design, has recently launched an exciting range of new products. When it comes to accessories and add-on parts for modern Vespa scooters, Rizoma is known for its unique combination of form and function. The latest additions to the range promise not only top-notch performance, but also stylish elegance. From add-on parts to style kits, Rizoma has everything you need to take the look and performance of your Vespa scooter to the next level.
Everything from air vents to mirrors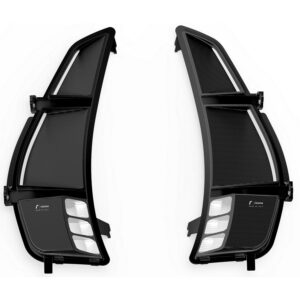 The RIZOMA Air Inlet Grilles are designed with a special focus on fluid dynamics to optimize airflow. Made from high quality billet aluminum, they offer not only a perfect fit but also exceptional durability. The Rizoma air inlet grilles are an essential accessory for any Vespa rider who places the highest value on quality and design.
for Vespa GTS/GTS Super 125-300cc (`23-)
aluminum CNC
black
Price: 499€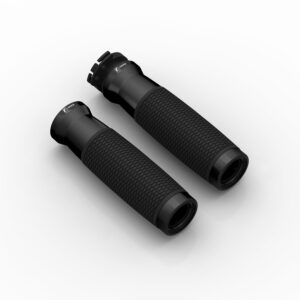 The RIZOMA Urlo grips are the ideal addition to any Vespa rider who values both comfort and style. Made from a premium combination of aluminum and technopolymer, these grips feature a unique diamond structure that provides excellent grip. The various color options, achieved through a high-quality anodizing process, guarantee not only an aesthetically pleasing look, but also a long life.
The ergonomic design of the Rizoma Urlo grips offers an unparalleled riding experience. Whether a long tour is planned or simply riding around town, these grips provide the comfort and confidence needed to allow riders to fully concentrate on the ride and get the most out of their Vespa.
for Vespa GTS/GTS Super/GT/GT L 125-300ccm
for handlebar tubes Ø 22/24mm
L 128 mm
aluminum
black anodized
with handlebar end opening
Price: 136€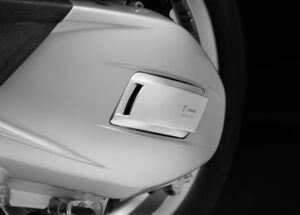 The RIZOMA vario cover for Vespa is characterized by its complete billet aluminum manufacturing and an elegant longitudinal structure. The innovative design features two openings – one at the front and one at the back – to optimize air circulation. This cover is available in silver and black color options.
for Vespa Primavera/Sprint/GTS/GTS Super 125-150cc 4T AC/LC iGet
Aluminum CNC
silver
Price: 141 €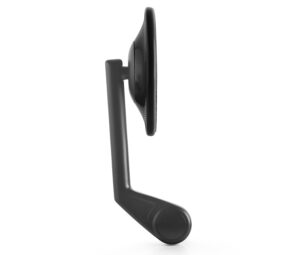 The E-Pop handlebar end mirror by RIZOMA stands out for its clean and essential lines and exclusive and stylish color options. The R&D team has refreshed the classic round design, giving the overall concept a dynamic twist that perfectly reflects Rizoma's values – reinventing the way we look at the world.
The mirror features a solid, yet lightweight aluminum stem combined with a technopolymer glass surface. This surface is finished with the new Rizoma texture called "Altera". The E-Pop complies with European approval standards and offers an optimal field of vision thanks to its generous reflective surface.
For classic riding style, the E-Pop can be mounted upwards, while sporty riders have the option to mount it downwards. This mirror elegantly combines style and functionality and is an asset to any scooter.
Suitable for Vespa LX/LXV/S/GTS/GTS Super/GTV/GT 60/GT/GT L
round
Ø 94.5 mm
Aluminum CNC
black
E-approved
Price: 129€
Conclusion
Overall, Rizoma's new products not only show the company's dedication to quality and design, but also offer practical solutions that will delight Vespa riders. From optimizing air circulation to improving rider comfort and style, Rizoma has it all covered.