Stefan Rohrer's sculptures, colourful and wonderfully twisted, occupy a special position in the art world. Motor scooters, car bodies and model cars form the basis for his works. In months of work, he forms unmistakable and unique art from them. Full of colourfulness, crazy swirls and elegant curves at the same time. The Frankfurt art historian and press spokesman of the Museum Art-Plus wrote an essay about Rohrer's objects, in which he commented on the intensity of the sculptures as follows: "They captivate our gaze. Involuntarily, we follow the intricate paths that Rohrer's cars and two-wheelers take, we are tossed around in our imagination and jolted like on a roller coaster, almost taking our breath away."
Vespas are Rohrer's great passion
The fact that art has something to do with skill is proven by Rohrer's training, which began when the artist, born in Göppingen in 1968, completed an apprenticeship as a stonemason, which he finally crowned with his master craftsman's diploma in 1998. This was followed by studies in Halle an der Saale at the local art academy and at the State Academy of Fine Arts in Stuttgart. In 2004, he opened his studio in the capital of Baden-Württemberg. That this happened in the city of Porsche and Daimler was no coincidence. Rohrer has had a great affinity for cars ever since he was a child. He actually wanted to become a car designer, and today he indirectly fulfils this childhood dream with his works. However, the fact that Vespas are now the preferred objects of desire probably has to do with the incomparable and everlasting elegance of the Italian scooters.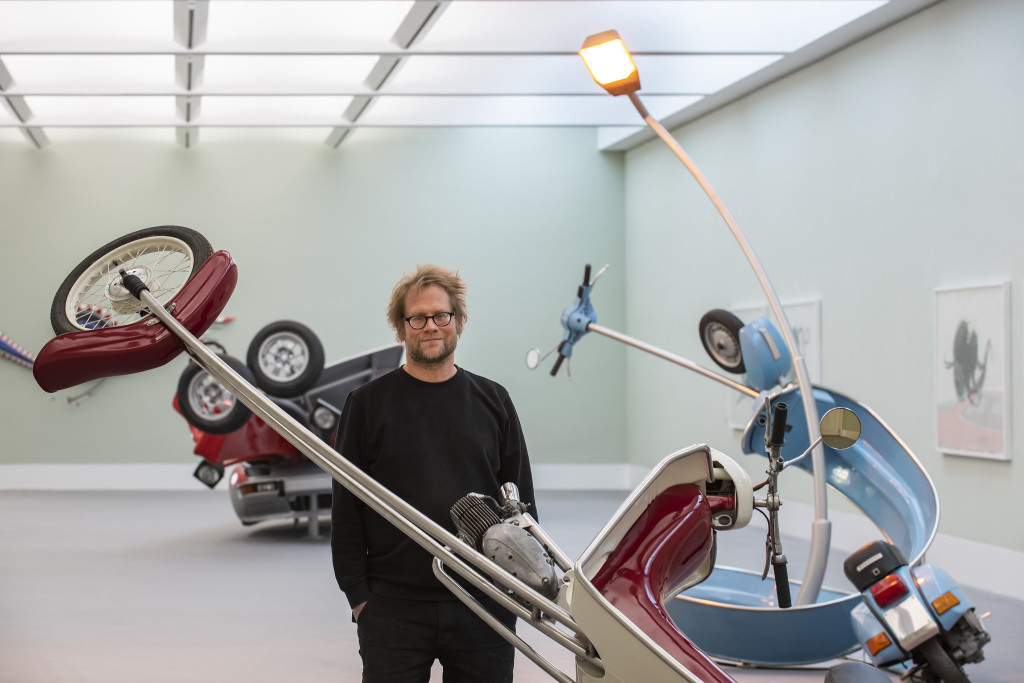 Months can pass before a Vespa art is completed
On the phone, the artist chats about his intention, especially about his favourite objects, ageing Vespas: "As a trained stonemason, I am used to working with tools, but I taught myself to work with sheet metal and other metals as a self-taught artist. I just have a passion for the old Vespas because they are so beautiful. Unfortunately, they are hard to find." Before Rohrer starts on the actual work of art, he creates a model of it on a scale of 1:10. When he is satisfied with the model, he goes on to weld, fill, paint and polish the large original. Rohrer always works alone, which is why it can take several months and the total length of the welds can be up to 100 metres before the object is finished to the master's satisfaction. Only when everything is just right in his eyes is the newly created work of art allowed to take its place in the studio or immediately in an art exhibition.
Italian cult design becomes an art object
Mostly Rohrer shapes or deforms motor scooters into art, in particular he prefers the Italian cult brand Vespa. The vehicles are usually gifts from people who are fascinated by how art is created from them – Vespa art. Although rare, he also occasionally works on found objects. Usually the artist has one or two of the scooters or at least parts of them in the garage, waiting to be given a new purpose. A PX 80 is one of them, but he can't say when he will start transforming it. It's probably a question of inspiration. When asked if he can make a living from his art, Rohrer, who lives in Stuttgart, answers: "I'm not going to get rich from it, but I can make ends meet.
What connects the Vespa and Rohrer so closely can probably be explained by the fact that the Vespa, with its curved shapes, allows the imagination to take flight.

On 24 April 2022, the exhibition Speed Lines with works by Stefan Rohrer ended at the Museum im Kleihues-Bau in Kornwestheim.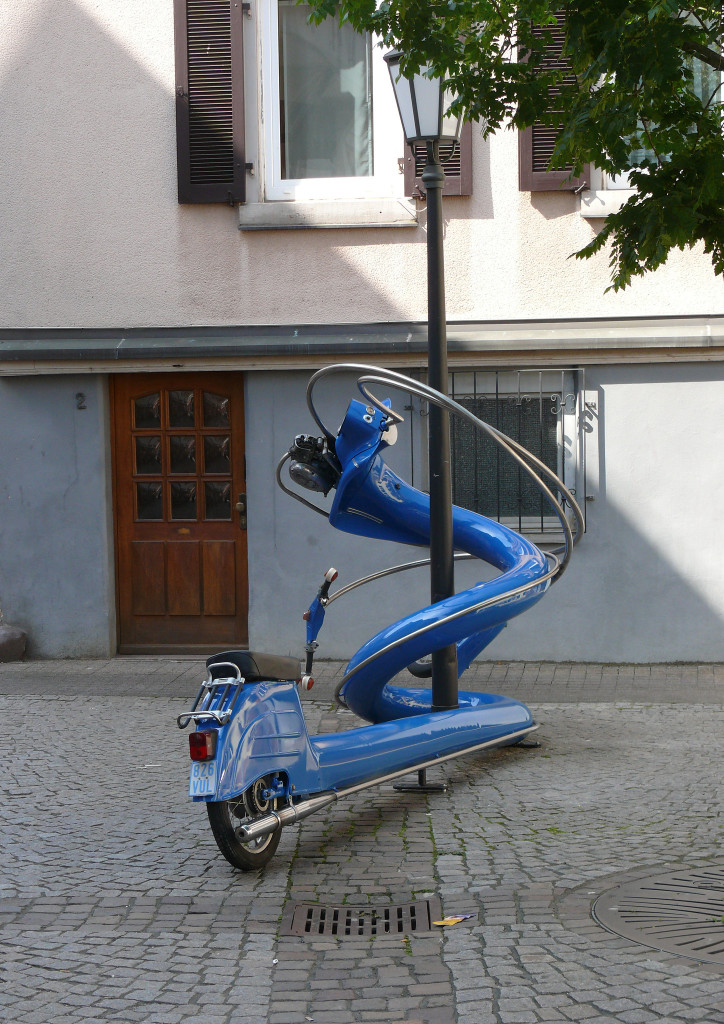 Rohrer is represented by Galerie Scheffel in Bad Homburg, which has fascinating art spaces in the Jakobshallen.