Choosing the right form of luggage stowage for a scooter can be quite difficult. There are numerous options that have their advantages and disadvantages. However, the most important thing is that the luggage does not interfere with riding and does not pose a safety risk.
Taking a closer look at the options, scooter riders can see where Vespa luggage racks can be fitted, firstly at the front, but also at the rear. There is room for one Vespa luggage bag on each. However, because of the weight distribution, some things should be taken into consideration.
Special features of the individual transport options
There is no legal basis, but like everywhere else, it depends on how much luggage scooter riders want to take with them. If the Vespa is used daily and the amount of luggage is often the same, it is best to fit a luggage rack where everything can be stowed well and, above all, safely. The scooter luggage rack should not be overloaded.
There are Vespa luggage racks for the rear, for one or both sides. They must be mounted in such a way that they do not pose an obstacle to motorcyclists. They should also not be mounted too low so that they are not damaged by leaning in curves. Care must be taken that the luggage cannot become loose when braking hard and then hang around loosely. It is best to place heavy items in the lower section and lighter items on top. It is important that scooter riders do not obstruct each other when riding, so a Vespa luggage bag can sometimes be more suitable than a luggage basket. You should think about this carefully before setting off.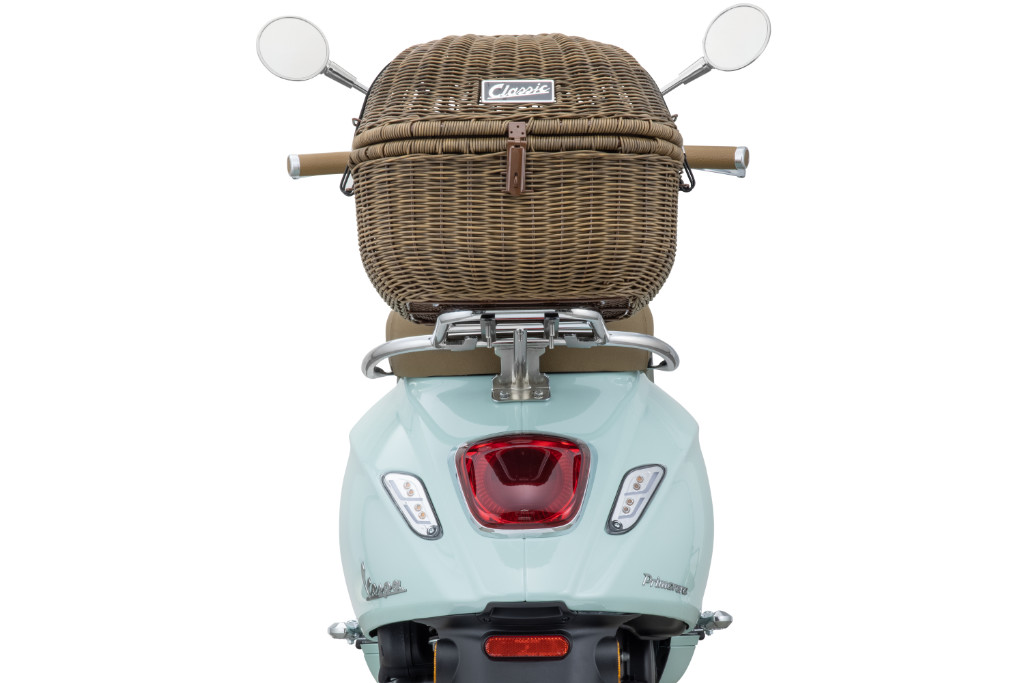 Other things to consider
In any case, the weight of the luggage must be distributed equally on both sides so that the balance can be maintained.
There are different types of luggage racks, some are foldable, and there are practical ones for getting through, where there is room for quite a lot. Various luggage bags can be placed there. Under no circumstances should they be overloaded to avoid additional danger. They should also not be stacked too high to avoid endangering themselves and other road users.
A shoulder bag can be useful, at least for shorter distances.
A bag with lighter contents is recommended for the luggage rack at the front. It can hold around 10 litres. It is important that the headlight is not covered. There is room for a larger bag at the rear, which can hold up to 50 litres. All luggage can be easily fastened with straps. A luggage roll can also be stored in the back of the scooter, as it is not an obstruction there.
A tunnel bag is very practical, there is room for it in the footwell, it has a volume of approx. 28 l, a weekend's shopping can be stowed in it, the bag has a stable seat and can easily be used as a rucksack at the same time. It is usually equipped with reflective strips on the sides and has a firm hold thanks to the fastenings in the lower area and on the side.
For the rear, it is worth considering a top case, which is ideal for lighter items, as it is better to always keep the centre of gravity towards the front. A luggage rack on which the top case is mounted is also ideal. On shorter trips a backpack can be an advantage, on longer trips it is rather inappropriate if it is heavy. So the possibilities are many and each person can choose the one that suits them best.