There are basically 4 different navigation options:
1) You simply buy a navigation device (e.g. Garmin, Tomtom or Elebest).
2) You use an app on your smartphone and use this also as an acoustic and/or optical output or display device.
3) One uses an app on his smartphone and has a separate output device (small display device, e.g. from Beeline).
4) The Vespa is so new and modern that it has a TFT display on which the route instructions can be displayed via the Vespa app Mia.
Advantages and disadvantages of the respective navigation solutions
Due to the very stylish handlebar fairings often used on Vespas, mounting a conventional navigation device is often more difficult. Of course, care should first be taken to ensure that it is a two-wheel navi, it should be as waterproof as possible. Non-waterproof navis can be packed in protective covers, but then they are hardly usable. With a little manual skill, the handlebar fairing can be dismantled and the navi mount simply attached to it with nuts and bolts after drilling. The advantage of conventional navigation devices is that they do not rely on the telephone radio network, but their navigation is carried out via satellites or via the GPS data they send. This works almost everywhere, even in the most remote corners of the earth.
The Beeline solution (smartphone with small display device connected via Bluetooth) is particularly suitable for Vespas, as the small display device is very compact and can be easily mounted on the mirror, for example. The smartphone then simply remains in the jacket pocket of the driver. If you only use a smartphone for navigation, you can either have the navigation transmitted or announced acoustically via headphones in the helmet (either installed as standard or retrofitted) or you can mount the smartphone on the handlebar. You then have the advantage that you can also see the course of the route graphically, e.g. can also estimate whether a blind bend is a 90 degree or 180 degree bend and find the right route more easily when there are turns in close succession (e.g. in cities). Vespa often offers mounting options for smartphones in the accessories. When choosing a smartphone, you should not only make sure that it is waterproof, but that it is also resistant to shocks, otherwise the image stabilization will often break.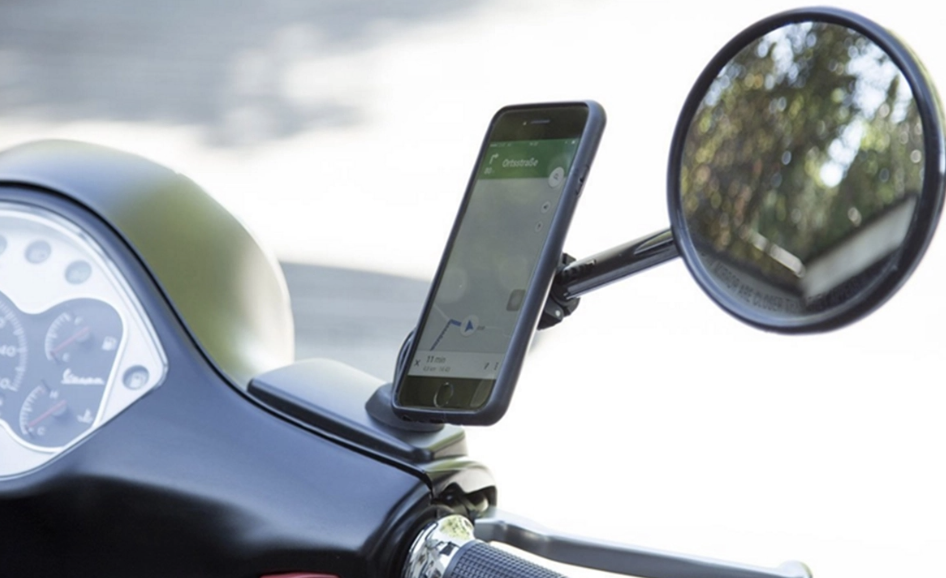 Usually, an older smartphone or an outdoor cell phone is less sensitive in this respect. If you use protective covers for the cell phone, it can overheat in hot temperatures, since it is sometimes exposed to sunlight for a very long time and has to work permanently for navigation. In addition, the operation through the cover is almost impossible here as well. The most noble navi solution is of course that of the new Vespas with the connectivity app Mia. Here, the smartphone is connected to the vehicle via Bluetooth using the app. It not only allows music to be played and phone calls to be answered (connection with the headset also via Bluetooth), but also graphically displays the navigation on the TFT display. Since Vespas are very often driven in urban environments, even in larger cities, a good navigation option is also a very big safety gain, since you can simply concentrate much better on the often large volume of traffic there.
Convenient for longer trips
Vespas are now also available with 300cc and a power of 24 hp. You can therefore use them very well for longer trips, for longer vacation trips and for long distances. If you want to totally decelerate, you can also do that with a 50cc. Since two-wheelers with trailers are generally only allowed to travel at a maximum speed of 60 km/h, this transport solution is then just perfect. But luggage can also be stowed on the pillion seat, under the seat or in the helmet compartment. For more detailed route and tour planning, all navigation solutions offer convenient planning from home on the computer. The routes are then uploaded to the navigation devices or smartphones, can be saved, sent to others or imported by others (GPX files).
Conclusion
Not only in the city are navigation solutions for Vespas a comfort and safety gain, but also for further routes, for the small day and weekend trip or for a trip. The cheapest solution here is an app for the smartphone, which you usually already have anyway (e.g. from Calimoto). With Calimoto, you can also select winding routes that are particularly suitable for two-wheelers.