Taking your Vespa out for a spin without tyres – impossible. Until now, one could always fall back on a wide range of different scooter tyres. Due to persistent supply problems of raw materials and a simultaneous shortage of labour, Heidenau, the largest German manufacturer of scooter tyres, stopped the production of scooter tyres at the beginning of February. The problems in the Suez Canal also had an impact on many other European tyre manufacturers. As companies focused on the large market for car tyres in such situations, supply problems for scooter and motorbike tyres loomed.
Due to "delayed supply chains, a shortage or unavailability of raw materials and materials as well as an absence of employees", further production of scooter tyres was not possible, the German manufacturer Heidenau announced at the time. SIP Scootershop also posted a message on their website in February, in which they mentioned the same problems.
This news also caused unrest in the Vespa scene. In the largest German-speaking Vespa forum, the GSF, possible alternatives were quickly discussed. As an alternative to the popular K58 from Heidenau, which is installed in 8- or 10-inch versions on many Vespas, there were and are other good tyres.
Search for alternatives
Michelin, the world's largest tyre manufacturer in terms of sales, also offers scooter tyres for Vespas. The classic tyre is the Michelin S1, which is fitted on many Vespas in sizes 3.50-10 and 3.00-10. Pirelli tyres are also a worthwhile alternative. It is not for nothing that many Vespas in Pontederra have already been fitted with Pirelli tyres ex works. For the above sizes, the SC30 is an alternative option. With a deep centre groove, this type also offers excellent driving comfort on wet roads. The Pirelli "Angel Scooter" in size 3.50-10 is also a good solution for rain-soaked roads. In addition, the tyre absorbs shocks and is at the same time the basis for optimal braking behaviour.
In addition, other tyre manufacturers such as Continental, Dunlop, Mitas or Kenda also offer excellent alternatives. An overview of the different brands and sizes can be found here.
SIP Scootershop as pioneers
In addition to the well-known manufacturers, the Vespa specialists from SIP Scootershop, located in Landsberg am Lech, have been producing their own scooter tyres for several years. In the SIP Classic series, a wide variety of inch sizes and widths are produced for almost all Vespas. Regardless of whether tubeless or tubetype, the focus here is on a long service life and a sporty orientation. This is reflected in particular by the fact that all tyres in this series are approved for speeds of up to 150 km/h. Also with regard to long mileage, a compromise has been found that reconciles safety, driving comfort and durability.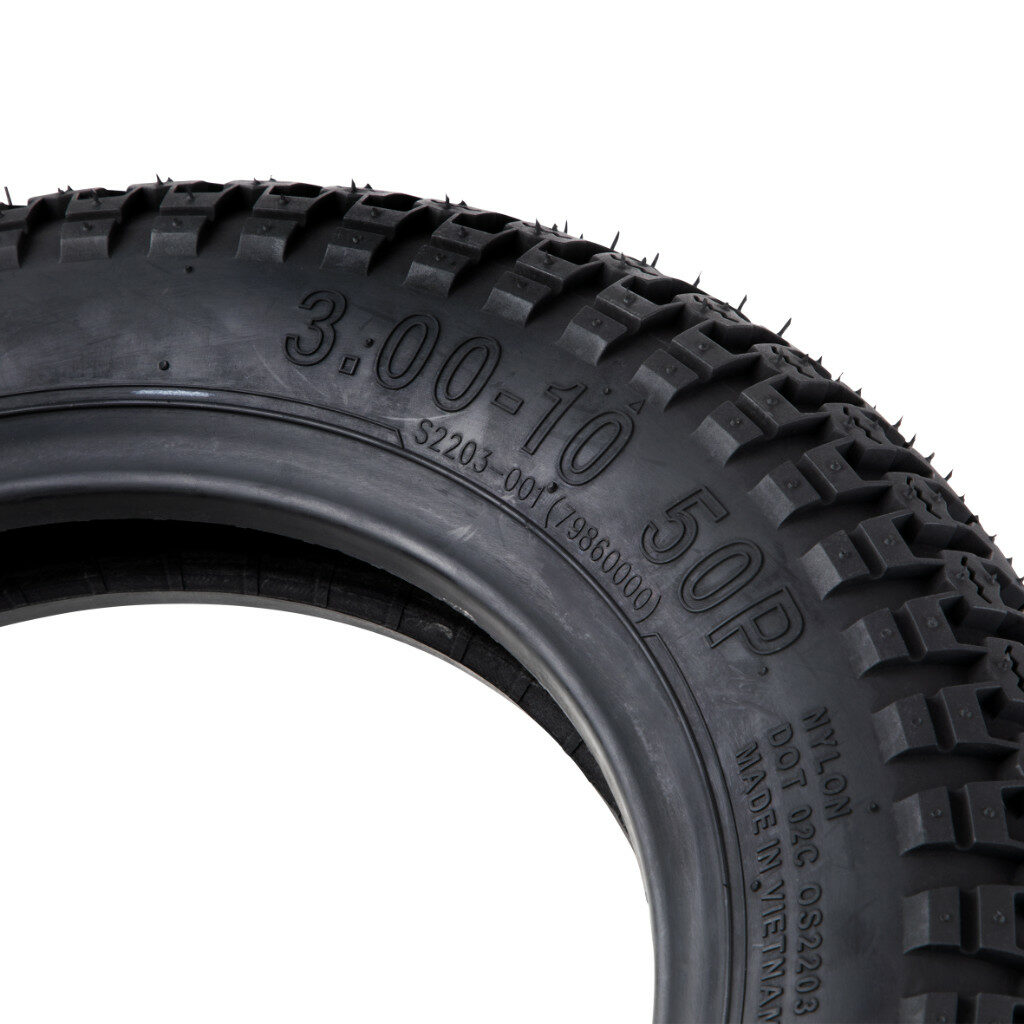 An eye on forgotten sizes
But the Landsberg-based manufacturer does not only want to appeal to the masses. Special sizes that have not been available at all for a long time are also developed and produced here. Typical examples are the two tyre sizes 3.50-9 and 2.75-9, the first of which is needed on the licensed Vespa ACMA GL, for example. On early Smallframe models, tyres of the size 2.75-9 were also fitted, which were only produced by Michelin in the form of the type "ACS". Here too, SIP developed a new tyre that represented a further development of the previous range. The tyre was designed with a classic tread pattern that offers good performance on both dry and wet roads. In addition, however, higher load and speed indices were fulfilled, which is why the tyres are also ideally suited for tuned scooters.
Situation has calmed down considerably in the meantime
Despite initial uncertainties, it can now be said that the supply bottlenecks were overcome without any problems. This was also due to the large stocks of the various dealers, who were able to compensate for this problem. The German manufacturer Heidenau is now also producing tyres for scooters again. This is shown by the fact that Heidenau tyres with the DOT code 2322 were again offered by various dealers. Even if in rare cases some tyre types are not available at short notice, there is no threat of supply bottlenecks in the near future. The SIP Scootershop online shop is a particularly good place to get an overview of the current situation. There, all tyres on offer are displayed as to whether they are in stock, in stock or currently not available. The tyres in stock clearly predominate, which is why Vespa riders do not have to worry about having to do without their Vespa because the tyres are not available.