Your dream Vespa model doesn't exist yet? Then Vespa offers you the perfect opportunity to make your dream come true: The Vespa 3D Configurator
So far, personalized adjustments can be made for the Primavera, Sprint and Elettrica, with other models to follow. Depending on the selected category, the model and also the available engine capacity can be selected, of course. Once the technical details are determined, it goes to the personal development with individual adjustments.
The Vespa in work is visualized by means of a 3D model. Here, using the Vespa Elettrica as an example, are a few of the many extras: the color can be chosen differently depending on the model and availability, from classic black to fiery red. Many of the customizations are largely extras such as top cases and luggage racks, although these can also be customized in color. After all, every element, no matter how small, ends up changing the overall look of the Vespa and so it is important to make every detail coherent.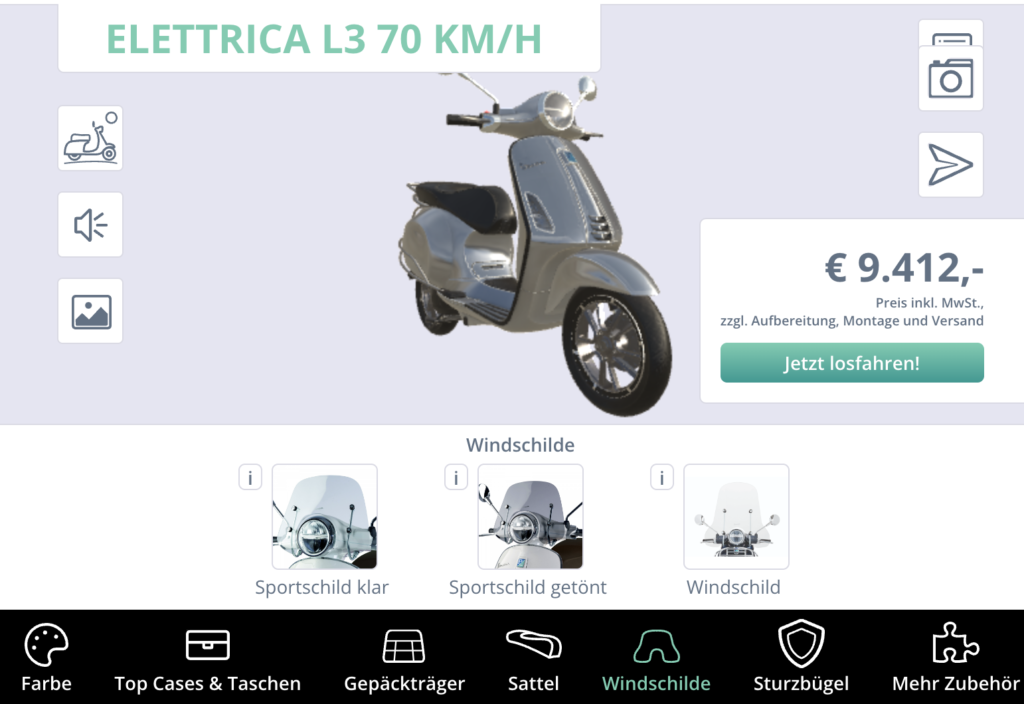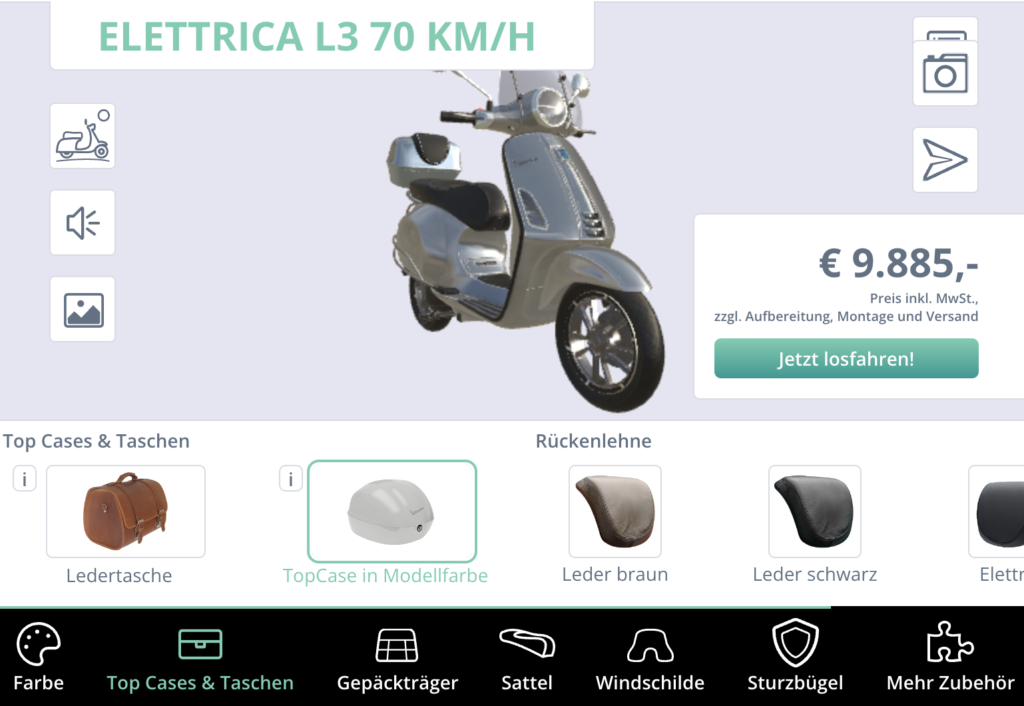 When selecting an extra storage option, you can choose between a leather bag and the classic Top Case. Both options automatically add a rear luggage rack, and for the Top Case option, different backrests can be added to make the ride a little more comfortable for passengers.
The luggage rack can of course be added just like that without a bag. Here, there's a choice between a TC rack, a full rear rack, and a wide rack for the front. The latter two can be mounted in chrome or black.
For the saddle, there's a choice between a black Mono Sport seat and the classic seat in genuine leather. They each give the Vespa a very different feel, making this a very important decision.
For a clear view ahead, two different sport shields can be mounted on the 3D model, as well as a normal windshield. Finally, since these are only for rider protection, the guards for the Vespa itself can be customized. Skirt frames, crash bars and a front bumper can be mounted in chrome or black on the scooter virtually with a mouse click.
For the final right impression of the finished Vespa according to the wishes, the dream scooter can also be set in a suitable Italian environment. Even if you can't travel to the southern coast, at least the dream of the perfect Vespa can come true and spread a little piece of Italy in everyday life.